My HealtheVet's 20th Anniversary
Celebrating 20 years of connecting Veterans to healthcare
This Veterans Day marks My HealtheVet's 20th anniversary. As VA's online patient portal, My HealtheVet is a key part of VA care. Just ask, Maple Davis, an Army and Army Reserve Veteran. Davis has used the platform since it launched in 2003.
"I tell every Veteran I talk to that if you're not on My HealtheVet, you need to sign up. It is the absolute best way to communicate with your providers, to get things done, and to learn information," said Davis.
Over 20 years, My HealtheVet has connected more than 7 million Veterans to VA care.
My HealtheVet over the years
My HealtheVet is a pioneer in patient portal technology. The platform was piloted in 1999 at 9 VA medical centers across the country. It launched nationally on Veterans Day, November 11, 2003.
The portal's first features included trusted health information, an overview of VA benefits, and a health calendar. Soon after launching, My HealtheVet added a personal health record. This allows Veterans to enter their own health information.
Since then, My HealtheVet has continued to add features that Veterans now rely on. Take a look at some key updates.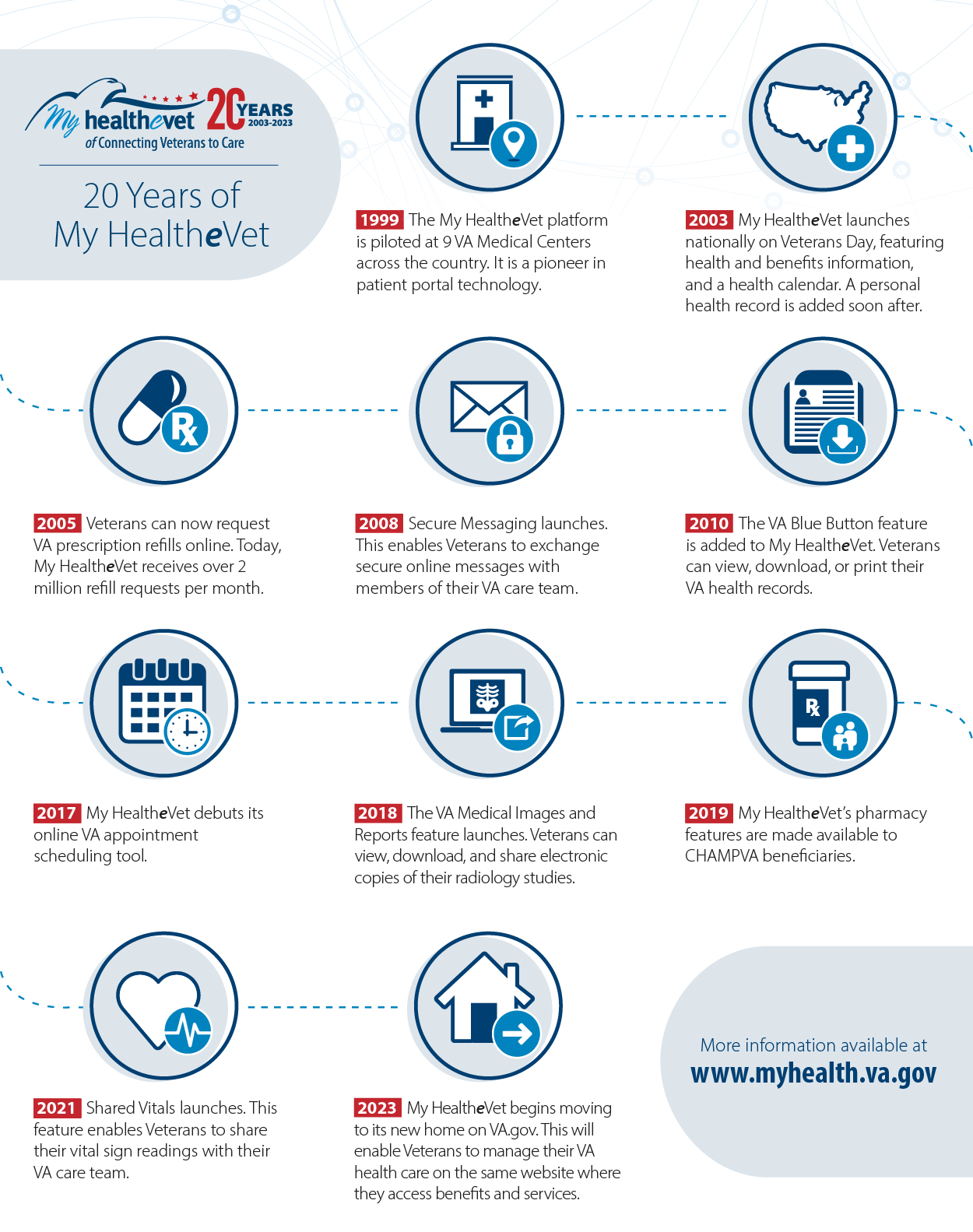 View enlarged image (PDF)
Davis was thrilled to see the platform grow through the years. "When VA added more features, I thought, 'Yes, this is the best thing since cheese was invented!'"
Veterans have now used My HealtheVet to request over 255 million prescription refills. They've sent over 204 million secure messages and downloaded over 59 million health record files. And features pioneered by My HealtheVet, like VA Blue Button, have become standard in patient portals around the world.
What's next for My HealtheVet?
My HealtheVet continues to evolve thanks to input from Veterans, caregivers, and VA staff. Each new update is made to improve Veterans' access to care and respond to their feedback.
Soon, My HealtheVet will move from its current website to VA.gov. Veterans will be able to manage their VA health care on the same website as their other benefits and services.
My HealtheVet Director Theresa Hancock said, "At VA, we want to empower Veterans to be active participants in their care. My HealtheVet has partnered with Veterans for two decades—and will continue to improve and revolutionize our capabilities—by putting VA care at Veterans' fingertips."
Learn more about My HealtheVet on VA.gov.
---
Please vote in our unscientific poll. All responses are anonymous.