How to Talk About PTSD
Talking about your experiences can lead to relief and healing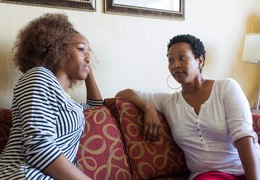 Sharing your most personal experiences can be tough yet rewarding. This is especially true when talking about life-threatening events like combat, a natural disaster, a car accident, or sexual assault. Knowing how to share your story – or disclose your trauma – takes time.
We want to make sure you know how to talk to your family, friends, and doctor about your trauma.
How to share your experience
You don't need to tell everyone at once. It's important to share at your own pace. Tailor your conversations to your comfort level. Sharing your experience is not usually a quick chat. Make sure you have plenty of time. People may have questions, but it's okay to say you're not ready to share everything in one discussion. Sharing is a process that unfolds over time.
Why talk about trauma and PTSD?
At least half of Americans have been through an event that could lead to PTSD. It's normal to have upsetting memories, feel on edge, or have trouble sleeping after a traumatic event. Talking about what happened to you may help you feel less alone, and knowing what happened can help your loved ones support you. After sharing, you may feel less guilt or shame. Getting treatment sooner rather than later can have a real impact on your life.
Who can you talk to about the trauma?
You don't need to have a 'one size fits all' approach to sharing your experience. When considering who you want to share with, here are some questions you might ask yourself:
Does this person support me in other parts of my life?

Does this person usually treat me with respect and kindness?

Are they currently dealing with issues that might make it hard for them to support me?
You know what's best for you
Disclosing your traumatic experience is an important decision. Your doctor or therapist can help you through this while keeping your health at the forefront. If you have a Premium My HealtheVet account, use Secure Messaging to connect with your care team, as well as manage your VA Appointments.
---
Please vote in our unscientific poll. All responses are anonymous.