Rx Refills During the Pandemic
Tips to refill your VA prescriptions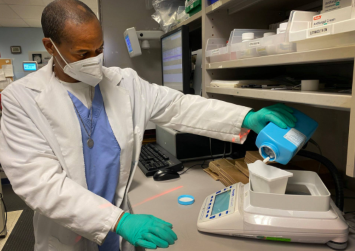 During the pandemic, people who regularly take prescription drugs for chronic conditions such as diabetes or high blood pressure may be concerned about getting refills. VA is working hard to get you your prescriptions when you need them.
We ask that you request refills of your VA Prescriptions as soon as possible. VA will process your refill request and have it sent to you before you're scheduled to run out.
How do Veterans request refills of their prescriptions?
To prevent waste and reduce the risk that unneeded medications could fall into the wrong hands, VA does not automatically refill medications. To receive a medication refill authorized by your VA prescriber, you must actively request a refill using one of the methods described below:
Online with My HealtheVet: You can request refills of your refillable VA-issued prescriptions, track VA prescription deliveries, view VA prescription history online.

The Rx Refill Mobile App: You can request refills of your refillable VA-issued prescriptions, track VA prescription deliveries, view VA prescription history from the convenience of your mobile device.

Telephone Call: Most VA Pharmacies have automated telephone refill lines. You can find the phone number of your local VA Pharmacy on your prescription label. To order refills by phone, you will need the prescription number (shown as RX # on the prescription label) and your Social Security Number. For many prescriptions that are no longer refillable, this automated system may allow you to send a request for more of this medication to be sent to you. For some medications, the healthcare team will need to contact you first.

By Mail: VA Pharmacy provides a refill request form with each prescription filled. To refill by mail, please complete the request form and mail it to your VA pharmacy at the address listed on the paperwork that arrives with your prescription.
What we know about COVID-19 continues to evolve. Try not to forget to take your medications or refill your prescriptions. Not having certain medications could cause health problems that require medical attention, which could put you at risk of exposure during a facility visit. Veterans who forget to re-order their medications in time have three options. You can contact your VA medical center pharmacy, call the phone number on the prescription label, or use My HealtheVet's Secure Messaging (sign in required) to get in touch with your health care team, especially if your prescription is no longer refillable.
As a last resort, you may visit your VA pharmacy in person to request a refill. You may be subject to screening before entering the facility. You might also have a very long wait to have your prescription refilled. Visiting in person can unnecessarily put you and others at risk of infection.
Delivery times can be affected by weather and the COVID-19 pandemic. Using the Track Delivery feature on My HealtheVet (sign in required), you can obtain the tracking number in use by either the U.S. Postal Service or UPS.
Keeping yourself healthy is one of the best ways to defend yourself against COVID-19. VA knows that this can be a stressful time for Veterans, make sure you're doing everything you can to keep your immune system strong and healthy.
---
Please vote in our unscientific poll. All responses are anonymous.