Have a Successful Video Visit
Get the most out of VA Video Connect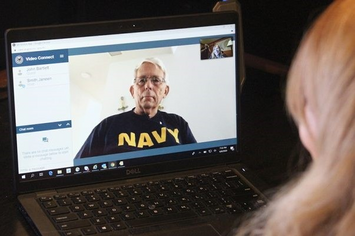 Secure video visits are a safe, convenient option to connect with your health care team for non-emergency care. Video visits can be especially helpful during the winter months when you may not want to leave your home as often. With preparation, you can have a great session and end with the same satisfaction as a regular office visit.
Prepare your room and technology
A video visit with a provider may use the same technology as a family video chat, but it's different. Just like a face-to-face office visit, you'll want to prepare. Here are a few suggestions:
Use headphones or earbuds if possible

Clean the device's camera lens

Find a well-lit, private space that is free of distractions (pets, children)

Turn off music, TVs, or radios to minimize background noise

Avoid holding your device in your hand; position it so it's close to eye level when sitting, maybe on a stack of books at a table, or on a bookshelf. Motion can blur the video picture.

Sit near your Wi-Fi router, or a window (if using a cellular connection)

When entering the VA Video Connect visit, make sure the video icon is selected and the device's sound is turned up
Best medical practices for you
Confidential information is often shared during visits. If you're accompanied by a spouse, partner, or family member, be sure the provider knows you're not alone.
Coming prepared for a virtual visit helps you get the best care possible. Review health records and medication lists (or prescription bottles) before the appointment to refresh your mind and spark questions. You will be able to share your screen and show your provider documents or websites if you wish. If your provider asks your location, it's only so they can help you if there's an emergency.
After you complete a virtual visit, you can view doctor's notes and instructions in My HealtheVet. If you have questions, follow up with your health care team using Secure Messaging (sign in required). You'll receive a response within three business days.
Understand that a virtual visit shouldn't be used in cases of emergency. If you need immediate assistance, call 911 or go to the closest Emergency Department.
---
Please vote in our unscientific poll. All responses are anonymous.