How to Use VA Video Connect
A step-by-step guide to using VA virtual care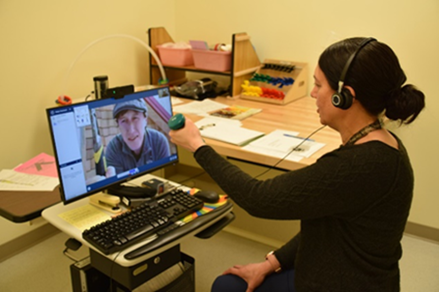 To reduce risks to our Veterans and staff during the current coronavirus outbreak, VA offers Veterans the option to use telehealth tools to replace in-person appointments with telephone or video visits.
Check to see if your VA Appointment in My HealtheVet offers a direct link to a VA Video Visit.
The step-by-step guide below will help prepare Veterans for video visits if needed.
Step one: Visit the website
Go to the VA video connect page on the VA App Store.

Review the helpful resources on this page including the Quick Start Guides and Frequently Asked Questions.

Contact your VA health care team; sign in and send a Secure Message about the option of a video appointment.
Step two: Get set up
For Android or Windows mobile devices and personal computers: No app download is needed. VA Video Connect will open automatically when you select your appointment link.

For Apple mobile devices (iPhone, iPad, or iPod Touch): Search for and download the "VA Video Connect" app from the Apple App Store.
Step three: Test your device
Open an Internet browser, and then click on this link so you can visit the VA Video Connect test site to make sure your device's camera and microphone are fully functioning.
Step four: Join your visit
You'll receive email reminders a week, 3 days, 1 day, and the day of your appointment. A few minutes before your video visit, find the appointment email from "donotreply@mobilehealth.va.gov" and select your appointment link to join your session.

If you sign into your appointment before your provider, stay in the virtual waiting room until they arrive.
If you have technical difficulties or further questions, please call the Office of Connected Care Help Desk at (866) 651-3180. It is available 24/7 to help you get started and troubleshoot technical problems.
---
Please vote in our unscientific poll. All responses are anonymous.