Secure Messaging: Recipe for Success
Tips for sending effective secure messages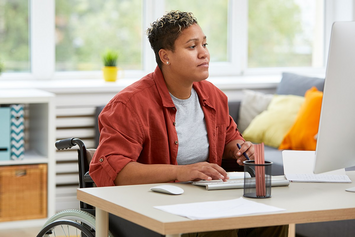 Have a question for your health care team? There's no need to wait until your next appointment. Secure Messaging is powerful free tool you can use to stay connected with your health care team.
With a Premium My HealtheVet account, you can send and receive messages with your VA health care team. But online communication comes with its own challenges. Unclear messages can result in confusion and frustration. To avoid stressful miscommunication, try these tips before you send your next message.
Be sure your message is not an emergency
Secure Messaging is only intended for non-urgent, non-emergency messages. If you're experiencing a medical emergency, call 911 or go to the nearest emergency room. If you're experiencing a mental health crisis, call the Veterans Crisis Line. Dial 988, then press 1, or text 838255.
Be concise
Important information can get lost in a long message. It can help to use "Who? What? When? Where? Why?" as your guide. Asking yourself questions like these will help to focus your message:
Who is the person or service my message needs to reach?
What is happening?
When is this happening? Do I need an answer by a certain time?
Where is the concern/event/action taking place?
Why am I sending this message?
Write a new message for a new topic
Try to address one topic at a time. Multiple topics can make your message lengthy and difficult to respond to. If you have a new question or concern, create a new Secure Message.
Lead with respect
It can be difficult to determine tone and intent with written communication. Your health care team will not be able to hear your tone of voice or observe your gestures and body language. Avoid sarcasm and foul or aggressive language to maintain respectful communication. My HealtheVet's terms and conditions prohibit profane or threatening messages. Violators may be blocked from using Secure Messaging. Of course, respect must go both ways. If you feel your care team has not addressed your concerns, you may contact a VA Patient Advocate.
Avoid using emojis or emoticons
In our busy world, everyone looks for shortcuts to make things easier. In email and texting, emojis and emoticons can help to describe emotions. When words fail, they can lighten the mood or soften a blow. Unfortunately, they don't work in Secure Messages or your medical record. An emoji in your Secure Message will show as a script of code which may confuse the recipient.
Don't copy and paste large blocks of text
Secure Messaging does not hold formatting. Content copied and pasted from a medical record, such as lab values, may become scrambled. To share community care medical documents, download the information you want to share. You can then attach the file to your Secure Message.
Pause before sending
With online messaging, it's easy to respond quickly without considering your words. It's good to be honest when you are experiencing a frustrating situation. But anger can get in the way of communicating clear and helpful information. If you're feeling anxious or upset, give yourself time to calm down before hitting send. It's always a good idea to review and edit your message if needed.
Give time for your health care team to respond
Once you send a Secure Message, your VA health care team will likely respond within 3 business days. This means that if you send your team a message on Friday, you may not receive a response until Wednesday. If you need to speak with a VA health care team member right away, you can also contact your local VA call center.
Upgrade to Premium
To use Secure Messaging, you need a Premium My HealtheVet account. Stay in better contact with your VA health care team by upgrading your account today.
Stay engaged in your health care
Army Veteran Lara Storke says Secure Messaging is her favorite My HealtheVet feature. "Once, when I had flu symptoms, I sent a message to my primary care provider because I needed a note for work. They replied that the flu was going around and confirmed I had all the symptoms. They told me how to take care of myself at home and to seek care at the ER if my symptoms got worse. A doctor's note was attached. I was so glad I didn't have to drive in to visit in person. They made it so easy for me."
Your VA health care team is here to support you and your health. Secure Messaging is a great way to communicate with your VA health care team and stay engaged in your care. Following these tips can help you communicate your needs and build a strong relationship with your team.
---
Please vote in our unscientific poll. All responses are anonymous.