Mammograms Can Save Your Life
What you need to know and how My HealtheVet can help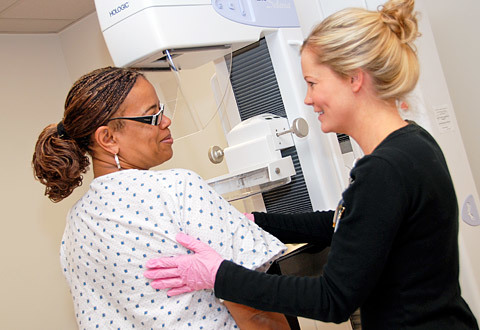 October is Breast Cancer Awareness Month, a perfect reminder to get your screening mammogram. You may be tempted to put off your mammogram this year because of the coronavirus pandemic. Doing so may put you at serious risk. During the pandemic, breast cancer diagnoses have dropped by 51.8%.
Take precautions now and keep your mammogram appointment. Most Veterans receive mammograms through VA. Discover more about mammograms and how VA and My HealtheVet can help you.
What is a mammogram
A mammogram uses special x-ray images to look for abnormal changes in the breast. The results are recorded on x-ray film or directly into a computer for a doctor called a radiologist to review and interpret. A mammogram allows the doctor to have a closer look for changes in breast tissue that may or may not be felt during a breast exam. Breast changes occur in almost all women. Most of these changes are not cancer and are called 'benign,' but only a doctor can know for sure.
Why should you get a mammogram?
The purpose of a screening mammogram is to find abnormalities that are too small to be seen or felt. But, mammograms will not detect all breast cancers which is why it is very important to see your health care provider if you feel a lump or anything unusual in your breast. Getting a screening mammogram can be your best defense against breast cancer. Research has clearly shown that screening mammograms can increase breast cancer survival.
When do you need a mammogram?
The risk of breast cancer increases with age. That's why it's crucial for all women over 45 to get regular mammograms. VA recommends that you take the actions below, once you have reached these age milestones:
At age 40: Talk with your doctor about the right time to begin screening;

By age 45: Begin yearly mammograms;

At age 55: Get mammograms every other year, or continue with annual mammography, depending on your preferences;

At age 75+: Continue getting regular mammograms if you're in good health
My HealtheVet and mammograms
Mammogram results can be viewed in a Blue Button report under 'radiology.' Veterans with a Premium account can view radiologists' notes from such screenings.
Mammograms don't prevent breast cancer, but it can save your life by finding breast cancer as early as possible. Contact your doctor using My HealtheVet's Secure Messaging (sign in required) if you're interested in setting up an appointment for your mammogram.
---
Please vote in our unscientific poll. All responses are anonymous.