Diabetes: Keeping Feet Healthy
Take care of your feet, take care of your health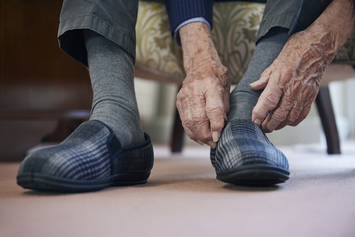 Managing your diabetes can feel like a lot of work. From checking your blood sugar to watching your diet, it's easy to overlook something important: your feet. Diabetes puts your feet at risk, which is why daily foot care is one of the best ways to prevent certain health issues.
Watch your levels
The first step in caring for your feet is keeping your blood sugar within a healthy range. High blood sugar levels may increase your risk of diabetes-related conditions, such as nerve damage or neuropathy. This can make it hard to feel when you have sores or cracks in your feet. Be sure to monitor your blood sugar levels and take all your prescribed medications. My HealtheVet makes it easy to record your blood sugar levels online with the Track Health feature.
Diabetes may cause poor circulation, making it more difficult for blisters to heal correctly. If gone unnoticed and untreated, these minor injuries can become serious infections.
Take special care
Because diabetes puts your feet at risk, you should check them every day. Check the top and bottom of both feet, as well as each toe. If you have trouble seeing the bottoms of your feet, use a mirror or ask for help. After checking your feet, take the following steps to care for them:
Wash your feet every day with soap and warm water

Dry them thoroughly and gently and don't forget between the toes

Moisturize your feet with cream or lotion but don't use it between toes

Never go barefoot, always wear shoes or slippers
Trim your nails
To avoid ingrown toenails, cut your nails following the shape of the toe, or straight across. Talk to your health care provider or podiatrist if you need assistance trimming your toenails. Schedule an appointment with your podiatrist to have warts, calluses, or corns removed.
To learn when your last nail trimming was, check your VA Notes (sign in required). There you can find a record of the health care services provided to you. If you are due for a nail trimming, reach out to your health care team with Secure Messaging. If you are eligible, your doctor can refer you to the Podiatry Clinic at your VA Medical Center.
Get your blood moving
Try to add gentle exercises, like walking or riding a stationary bike, to your daily routine. Exercise will help keep your feet strong and flexible. It can also improve blood flow to your feet and help heal any skin irritations.
Ask your health care team about special foot exercises you can do to boost blood flow. For example, while sitting, try to put your feet up and wiggle your toes for a few minutes.
When to seek help
If you notice any of these changes, it's a good idea to see your doctor:
Thickened or yellow toenails

Fungus infections, like athlete's foot

A blister, sore, or corn

An ingrown toenail

Pain in your legs or feet

Numbness, like pins and needles, or swelling

Hair loss on your toes, feet, and legs
Try to stop smoking
The dangers of smoking run from your head to your feet. Chemicals in cigarette smoke damage and constrict your blood vessels. Meaning smoking restricts your blood flow, leading to poor circulation. So, if you smoke, it's time to quit. VA has resources to help you quit.
Manage with My HealtheVet
My HealtheVet has online tools to help you manage your diabetes. You can record your health history, lab tests, blood sugar, cholesterol, and blood pressure, and track your daily food and activity intake.
---
Please vote in our unscientific poll. All responses are anonymous.