Track Your Cholesterol in My HealtheVet
Watching your cholesterol is part of staying healthy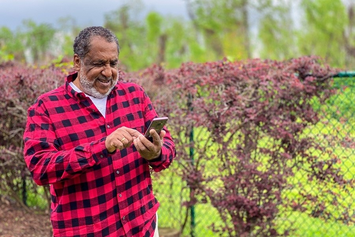 Heart disease is the number one cause of death in the United States. High cholesterol can lead to heart disease and stroke. Luckily, cholesterol can be lowered with diet and medications.
My HealtheVet's Track Health feature can help you manage your cholesterol and stay healthy.
Understanding cholesterol
In addition to the total cholesterol number, it's also important to watch HDL, LDL, and triglycerides. Knowing your HDL, LDL, and triglyceride numbers can give you a bigger picture of your risk for heart disease and stroke. You can lower your cholesterol with changes like eating better foods and taking medications correctly.
Track your numbers
By using My HealtheVet's Track Health feature, you can create a record of all of your cholesterol readings. Monitor and view your cholesterol with My HealtheVet with the following steps:
Sign in to My HealtheVet using your Premium or Basic account

In the navigation bar at the top of the page, select Track Health




Scroll down and select Vitals

In the navigation bar, choose Cholesterol (Lipids Profile)

To add a new reading, select Add New. Once there, you'll enter the date, time, and whether you're fasting. You'll then enter your total cholesterol, HDL, LDL, triglycerides, and any comments. Check with your doctor to find out what is normal for you.



Then, select Save or Save & Add Another if you have more readings to enter
Remember: measuring your cholesterol regularly will help you understand if your lifestyle changes and medications are working. Reach out to your doctor with Secure Messaging if you have any questions.
---
Please vote in our unscientific poll. All responses are anonymous.