Manage Diabetes with Self-Care Skills
Discover online management tools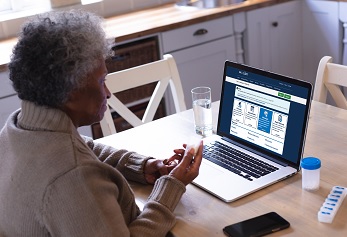 More than 1.5 million Veterans have diabetes. Managing it is different for everyone. Some need medication from the beginning, while others manage it with diet and exercise. Knowledge and use of self-care skills can also help.
Whether you've just been diagnosed or there's a change in your condition, VA has ways for you to take charge of managing diabetes. Self-management education and support programs provide the knowledge you'll need.
Start with healthy choices
What you eat and how much you exercise are important parts of living a healthy life. Make sure you're eating three balanced meals a day with your mealtime medications. Limit high sugar drinks. There are also many benefits to getting regular exercise. It can help with mental and heart health, weight, and controlling blood glucose (blood sugar) and blood pressure.
Meal planning can go a long way in supporting a healthy lifestyle. VA's Healthy Teaching Kitchen can help you find nutritious meals to enjoy. In My HealtheVet, you can track your diet with the food journal and see changes in your health by keeping track of your exercise in the activity journal.
Be mindful of blood glucose and blood pressure
With diabetes, blood glucose and blood pressure need to be monitored and tracked over time. Your provider will give you a target range. Monitoring blood glucose and blood pressure, including home monitoring provides important information to you and your health care provider. Monitoring can guide daily self-care and provider decisions which can help reduce the risk of short- and long-term complications.
You can sign in to My HealtheVet to track trends in your blood glucose and blood pressure levels.
View your health records
Another way to stay in control is knowing your personal health history. There are tests that you might have more often, like the A1C test. You can find labs and test results in My HealtheVet 36 hours after they're verified. The VA Blue Button report is another place to find your health history. You can even download and print your customized reports.
Learn more about diabetes self-management
Managing diabetes is an important team effort that focuses on your care. VA has more resources to help you live with diabetes:
Armed with these resources, your diabetes self-management plan can help you live your best life. Your body may change, your needs may change, and you might need changes in your medication. Reach out to your health care team before making any big changes. For non-emergency questions, you can send a Secure Message if you have a Premium account.
---
Please vote in our unscientific poll. All responses are anonymous.