Four Myths on Breast Cancer Screenings
They're safe and necessary - learn the facts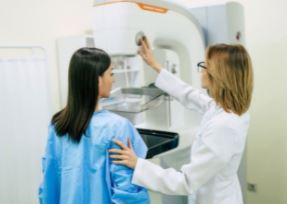 Some women may find it intimidating to get a screening mammogram. One out of every eight women will be diagnosed with breast cancer in their lifetime. Getting your regular mammogram is the best way to ensure early detection, which could save your life, so don't wait. Many women avoid screenings for breast cancer because they're stopped by one or two myths.
Here's a look at four common myths about breast cancer screening and the truth behind them.
Myth 1: You only need to be screened if you have a family history or have symptoms
Most women diagnosed with breast cancer have no family history. In fact, three out of four women diagnosed with breast cancer do not have a family history. Cancer can start without any symptoms, and a mammogram finds it before symptoms start. You should talk to your doctor about your mammogram. If you feel a lump, let your doctor know immediately.
Myth 2: Mammograms are painful and take too long
Sometimes there's discomfort during a mammogram, but it should not be painful. Some pressure is needed to get the best image. Try focusing on your breathing to relax. It's also helpful to schedule your mammogram after your menstrual cycle to decrease discomfort. Remember, a mammogram should never hurt so much that it stops you from having it. Talk with the technologist about how to improve your comfort level. Mammograms normally take 20 minutes -- and could save your life.
Myth 3: Radiation can lead to cancer
Did you know that the amount of radiation is only a little more than a chest x-ray? Mammograms use very little radiation. Many people think a mammogram can be replaced with an ultrasound or MRI and avoid radiation. No imaging exam is perfect. Mammograms are the best tool to find cancer early and to decrease breast cancer deaths. The benefit of early detection far outweighs the risk of the small amount of radiation in a screening mammography.
Myth 4: Getting screened won't change the outcome if cancer is found
If you have abnormal results, we know you're scared. Abnormal results don't necessarily mean you have cancer. However, if there is cancer, it doesn't mean it's too late. The good news is when caught early, the 5-year survival rate for breast cancer is 98% or more.
Make an appointment for your mammogram
If you haven't had a mammogram or feel it's time to schedule your next one, talk with your doctor about scheduling an appointment. You can sign in to My HealtheVet to schedule your appointment now.
---
Please vote in our unscientific poll. All responses are anonymous.