CPAP and BiPAP Recall
Find out if your Philips Respironics device is impacted and what's next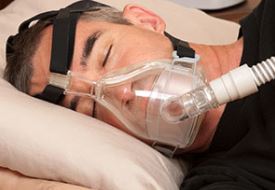 Do you use a Philips Respironics CPAP (continuous positive air pressure) or BiPAP (bi-level positive airway pressure) machine for sleep apnea? There's recently been a recall on some of these devices. If you use one of these, learn about why they were recalled and what to do next.
If you don't have a Philips Respironics device, continue using your device without taking any additional action.
Recalled machines
These devices were recalled because of a breakdown of the foam used to reduce sound and vibration. If you're using the machine, small foam particles may break loose and travel through the air hose. It may even release some chemical vapors.
If your device is more than three years old, is used in heat over 95 degrees and humidity, or was cleaned with an ozone sterilizing device, the chance of breakdown is higher. You'll need to register your device right away.
What to do next
If you use a Philips Respironics CPAP or BiPAP device, like a Dream Station or System 1, continue to use your device as prescribed. Follow these instructions to get a new device:
Register your device on the Philips Respironics website or call 877-907-7508.

You'll receive a new machine when one is available. It could take a year.

They'll provide a box to return your old device when the new one is received.

Call your doctor or provider, or sign in to My HealtheVet to send a Secure Message if you're concerned about using your current device.

Do not try to remove the sound reduction foam because your machine will break.

If you and your provider decide to stop using the machine, your VA benefits won't be impacted.

Only clean your device following the manufacturer's instructions.
The recall has led to a shortage of CPAP and BiPAP machines. VA may not be able to replace it in the short term. We're working on a solution and will keep you informed as we learn more. Visit the Philips Respironics Recall website or the VA Philips Respironics Recall site for frequently asked questions. These sites will be updated as more information is available.
Caution: We have become aware of a scam targeting patients with Philips Respironics devices. Callers say they represent Philips Respironics and request your credit card number. Philips Respironics will not call requesting credit card information and there is no charge to replace a recalled device. As a reminder, do not provide personal information such as credit card or social security numbers to unsolicited callers.
---
Please vote in our unscientific poll. All responses are anonymous.