RX Refill or Renew?
How to refill your VA prescriptions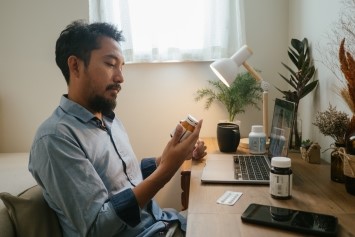 When you run out of your VA prescription medication, do you know how to get more? VA pharmacies can process most of your prescription refill requests. Keep in mind that there are certain cases when VA may not be able to offer a refill. Instead, you may need a renewal. A renewal is a different kind of request, and it's important to remember the difference.
Refill requests vs. renewal requests
Providers determine how many prescriptions refills you can request between appointments. If you need more medication and have no refills left or the prescription is expired or discontinued, you'll need to request a renewal.
How to request a prescription refill
Prescription refills can be requested online via My HealtheVet with a Premium My HealtheVet account. You can also request refills on the Rx Refill mobile app, by phone, or through the mail. To make sure you get your medication before you run out, request refills at least 15 days before you need it. You could even schedule a refill the day your medication arrives. The medication won't be processed for shipping until its fill date.
How to request a prescription renewal
Start thinking about renewing your prescription as soon as you have zero refills left. Requesting a renewal of a VA prescription could be as simple as reaching out to your provider. You can ask for a renewal via Secure Messaging, phone, or during an appointment. The phone number on most prescription labels can direct you to an automated pharmacy line for renewal requests without talking to anyone.
Prescriptions and copayments can be hard to navigate. VA has resources available to help. To access all the best features of My HealtheVet, like tracking prescription deliveries, upgrade to a Premium account.
---