Get Your COVID-19 Test Results Online
What happens after the test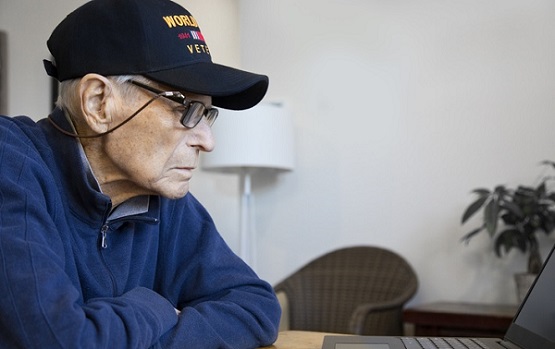 If you were tested at a VA facility and have a My HealtheVet Premium account, you can view your results online. COVID-19 test results are now available without a 'hold period,' meaning that they are available online in My HealtheVet as soon as VA has received or processed them. If you test positive, your VA care team will call you to talk about the next steps.
With your Premium account, you can view lab and test results that are currently in your VA electronic health record. If you do not have, or do not know if you have a My HealtheVet Premium account, read the instructions on upgrading your account.
Here's how to find your COVID-19 test results:
Check COVID-19 Test Results Online
My HealtheVet will display COVID-19 test results from any lab test ordered by a VA health care team.
Sign in to your account and follow these steps to access your COVID-19 test results:
Select Labs + Tests on the home page

Select View More under VA Chemistry/Hematology

Review the summary list 'by date' for COVID-19 test results performed at your VA facility
For more information about your results, contact your VA health care team through Secure Messaging or by telephone.
Make Sure You Have a Premium Account
Sign in to check if you have a Premium account. If not, there are two ways to upgrade your account to Premium from home:
Online: You can upgrade to a Premium account online with a secure sign-in partner.
DS Logon: Create a DS Logon Level 2 (Premium) account with the U.S. Department of Defense at myaccess.dmdc.osd.mil

ID.me: Create an ID.me account at id.me/registration/new.

Once you have a DS Logon Level 2 (Premium) or ID.me account, go to myhealth.va.gov, select Sign in, select either Sign in with DS Logon or Sign in with ID.me. After you sign in, select Upgrade and follow the instructions.
Video Appointment: Ask your VA facility's My HealtheVet Coordinator if upgrading by video is an option and what documents you'll need to successfully upgrade over video.
---
Please vote in our unscientific poll. All responses are anonymous.