Cough Cough: Is that the Flu?
Flu or cold? A quick check to help you to decide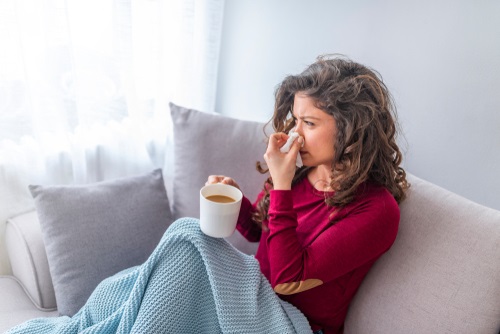 Wouldn't you like to know if you have flu before going to the doctor? Seasonal flu activity in the United States is on the rise and will continue into next spring. VA has a way to help you figure out if your symptoms are from the flu or a common cold, and it only takes a couple of minutes to complete.
Influenza Self-Assessment Tool
The VA Influenza Self-Assessment Tool is easy, quick, and doesn't collect any information. The assessment has short questions such as:
Do you happen to know your temperature?

Do you have a cough or a sore throat?

Do you feel feverish?

Do you have difficulty breathing or shortness of breath?
Once the tool has evaluated your possible condition, it'll let you know your risk level.
Not a Likely Candidate: Lets you know that it's unlikely you have flu. If you aren't a likely candidate, it will give you tips for home care and flu prevention.

Low Risk: Recommends that you receive self-care at home and links to a self-care guide. If your risk is small, you should retake the assessment if you start to feel worse.

High Risk: If this window appears, you should get immediate care. If you're high risk, it'll tell you to seek attention in an emergency department immediately.
The assessment can help you decide when to seek professional care. If you can't take the assessment, download the self-assessment flowchart, and see if the flu is causing your symptoms.
Next steps
Even though this self-assessment tool can help you decide if you need to seek care, it shouldn't be used as a substitute for an evaluation or treatment by your health care team. If you feel sick, you should still call your health care provider.
After you take the assessment, use My HealtheVet's Secure Messaging (sign in required) tool to talk to your provider and discuss your results.
---
Please vote in our unscientific poll. All responses are anonymous.