Be Ready for Hurricane Season
Make medical records part of essential preparations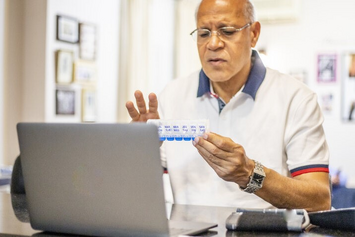 Don't wait until a hurricane is bearing down on you to collect your medications list and other important medical records. As we enter hurricane season, you can prepare your family now to avoid potential dangers. Gather the items you may need in the case of emergency, including medical records. My HealtheVet has tools to help access your health records.
Severe hurricanes and tropical storms cause damage from strong winds and rain, flash flooding, and potential landslides. Tornados can happen along the path of the hurricane as well as storm surges along the coast. As a result, both inland and coastal communities face higher risks this season. If you had to evacuate your home, would you be ready?
What do you need to do to be prepared?
Form a communication plan with your family. An emergency can strike at any time. Make sure everyone in your family has a way of contacting each other. If possible, identify an emergency contact person who is outside of your area so that everyone has a backup, central point of communication.
Keep health records handy. Print out a copy of a recent Blue Button file and keep it in a safe place. When a disaster hits, you could be stranded without access to a pharmacy. Stay ahead of schedule and have an extra supply of your prescriptions. Use My HealtheVet's Secure Messaging to contact your health care team about your care. (But remember that Secure Messaging is not for emergencies — always call 911 if you need urgent care.)
Know your resources. Each community has an evacuation plan, and many also offer emergency shelters. Learn the best exit routes if you need to leave your home or community. Also, find out where local emergency shelters are located.
Assemble an emergency kit. Here are a few suggestions:
Water and non-perishable food items

Small amount of cash — ATMs and credit card machines may be inoperable

Weather radio

First-aid kit and family prescriptions

Flashlights, lanterns, and batteries

Blankets

At least one change of clothes

Hygiene and sanitation products

Copies (front and back) of your identification and credit cards

Full tank of gasoline

Cards, toys, and other small recreational items, especially if you have children

And of course, a supply of personal, reusable face masks for every member of the family.
Don't forget to plan for your pets! Make sure Fluffy has her carrier and enough food and water, too. Ideally, the supplies in the emergency kit should last at least three days and should be restocked or replaced at least once per year.
What should you do when a storm is coming?
Stay informed. The National Hurricane Center and local news stations issue constant weather updates. You can also sign up to receive alerts on your phone. Follow instructions issued by local officials — if evacuations are ordered, leave immediately!
Protect your home and belongings. Safeguarding windows are a priority. If broken, strong winds may enter your house and pry open the roof. It's best to cover windows with either shutters or plywood. Tie down or bring inside any loose items on your lawn. Storms spring up quickly, so there's no such thing as taking too many preventative measures.
For more information on preparing for severe weather, visit Ready.gov.
---
Please vote in our unscientific poll. All responses are anonymous.