Health Care Eligibility Under PACT Act
More Veterans are eligible for VA health care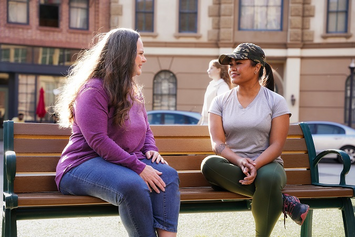 You might already know how the PACT Act impacted your care and benefits. But did you know it also expands health care eligibility for many Veterans? The PACT Act began one of the largest expansions of VA benefits in history.
If a Veteran you know hasn't enrolled in VA health care before, here are some details you can share to help them get the care they've earned and deserve:
Vietnam Era Veterans
Vietnam Era Veterans who served in these locations and time periods are eligible to apply for enrollment now:
Republic of Vietnam between January 9, 1962, and May 7, 1975

Thailand at any U.S. or Royal Thai base between January 9, 1962, and June 30, 1976

Laos between December 1, 1965, and September 30, 1969

Certain provinces in Cambodia between April 16, 1969, and April 30, 1969

Guam or American Samoa (or their territorial waters) between January 9, 1962, and July 30, 1980

Johnston Atoll (or a ship that called there) between January 1, 1972, and September 30, 1977
For Veterans who discharged or separated within the last 10 years
Veterans who meet the below requirements are eligible for enhanced VA health care eligibility for up to 10 years from the date of their most recent discharge or separation. This means they can access free VA health care for any condition related to their service during this time.
To qualify, at least one of the following must be true:
You served in a theater of combat operations during a period of war after the Persian Gulf War, or

You served in combat against a hostile force during a period of hostilities after November 11, 1998
Are any other Veterans eligible for VA health care under the PACT Act?
Additional windows of PACT Act health care eligibility will be opening soon – stay tuned for more information. However, we encourage all Veterans to apply, regardless of it they meet the criteria above. There are many other factors that impact health care eligibility, such as disability rating and income.
What to know about VA health care
Enrollment is free, and health care may be free too.

VA health care for any illness or injury that is determined as "service connected," or related to your military service, is free. The PACT Act also expanded VA benefits for millions of Veterans, making more than 300 health conditions "presumptive" for service connection.

Tell your friends to apply for VA health care in 1 of 4 ways:

By calling the toll-free hotline at 877-222-8387

By mailing VA Form 10-10EZ to: Health Eligibility Center 2957 Clairmont Rd., Suite 200 Atlanta, GA 30329

In person at their nearest VA medical center or clinic
My HealtheVet and your health care
If you're already enrolled in VA health care and have questions about what the PACT Act might mean for you, VA can help. Sign-in to your Premium account and send your doctor a Secure Message. With My HealtheVet, you can also view and organize your health information, like your providers and closest VA facility.
---
Please vote in our unscientific poll. All responses are anonymous.