Need Internet or a Tablet for Appointments?
Access VA care wherever you are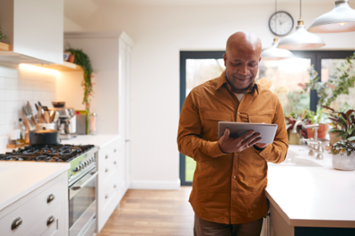 VA Telehealth brings you the care you need, wherever you are. With video telehealth visits, you can save time and still talk face-to-face with your doctor. It can be difficult to use telehealth if you don't have internet or a video-capable device at home. VA is working to bridge this digital divide. Here are ways that VA can help you get connected.
How to get connected
If you don't have internet access or a video-capable device, your VA care team can help through the Digital Divide Consult. All you have to do is talk to your VA provider. They'll refer you to a VA social worker to determine if you qualify for these programs:
Telehealth and My HealtheVet
After your video telehealth visit, you can view your doctor's notes in My HealtheVet. If you have questions, send your health care team a Secure Message. They'll respond within three business days. Remember, a video telehealth visit shouldn't be used for emergencies. If you need help immediately, call 911.
---
Please vote in our unscientific poll. All responses are anonymous.
---
Read More
---
Created June 24, 2022