Diabetes: Keeping Your Heart Healthy
Six tips to lower your blood pressure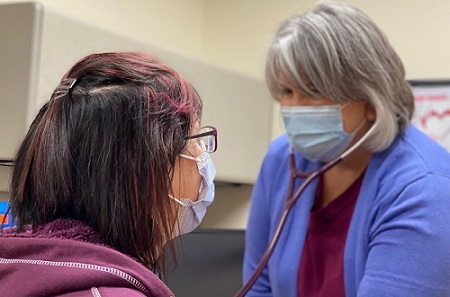 Did you know that high blood pressure, or hypertension, is more likely to impact someone with diabetes? For 1.5 million Veterans with diabetes, this means a higher risk of heart disease, kidney disease, and stroke.
Whether you're managing diabetes, hypertension, or both, we have tips to help you stay healthy.
Lower your blood pressure
Hypertension is blood pressure that stays high over time. Most people with it feel fine. The only way to know you have hypertension is to check your blood pressure. These six tips can lower your blood pressure, which can protect your kidneys and heart:
Your doctor may also prescribe blood pressure medicine. Next time you see your doctor, make a list of questions to discuss the right plan for you.
My HealtheVet can help
Another way to stay in control of your health is to track your blood pressure over time. Use My HealtheVet's Track Health feature to monitor your blood pressure and food journal to track what you're eating. Secure Messaging is also an easy way to discuss lifestyle changes with your health care team or even how to track your blood pressure from home.
---
Please vote in our unscientific poll. All responses are anonymous.