Hearing Aids Connect with Telehealth
Fine-tuning with a telehealth visit saves a trip to the clinic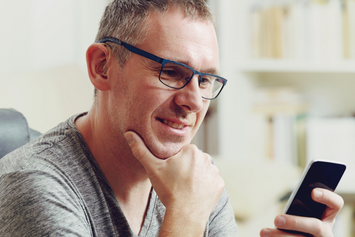 If you use hearing aids, you know they need to be adjusted as your needs change. Fine-tuning your hearing aid can often be done with an app on a cellphone or smart device. Telehealth is an option for many of your appointments, including some for your hearing. Talk to your health care team and audiologist about how VA Video Connect can help you manage your hearing aids from home.
Get help with hearing aids
Many people need hearing aids as they get older. With VA Video Connect, health care providers give real-time hearing feedback. Hearing aid settings can be checked and adjusted remotely, taking into consideration your environment's regular noise level and how often you wear the aids.
Fixing your devices
Medical equipment can break, and you might need other accessories. Your health care provider can help you figure out what's wrong. If you need help with your aids, you could use virtual visits to get help such as:
A demonstration about using hearing aids

Help with devices and accessory needs, like chargers or connectivity issues

Learning how to clean your hearing aid or replace parts like a wax guard
When to go to the clinic
For hearing tests and diagnostics, you'll need to go to the medical center or a community-based outpatient clinic for testing. If you need a hearing test, make an appointment with your provider as soon as you can.
"We are seeing Veteran patients become more tech savvy, using phones for VA Video Connect, and remotely connecting to their hearing aids through virtual tools," says Dr. Julie Brumbaugh, chief of Audiology and Speech Pathology Services at the Columbus VA.
If you'd like to try VA Video Connect for your next hearing visit, you can ask your health care team through a Secure Message.
Using VA Video Connect
VA's Office of Connected Care recently released updated versions of the VA Video Connect mobile app for Apple and Android. Update your VA Video Connect app for the best video experience.
Android users can find VA Video Connect on the Google Play Store. Apple iOS users can do the same on the Apple App Store. Learn more on the VA mobile app page.
If you have questions about VA Video Connect or need help, you can visit the Office of Connected Care Help Desk Portal or call the 24/7 Help Desk at 866-651-3180.
---
Please vote in our unscientific poll. All responses are anonymous.