Vaccines for You, Your Spouse, and More
VA will provide COVID-19 vaccines to many more through the SAVE LIVES Act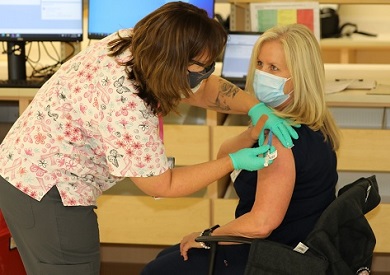 Did you know that all Veterans, their spouses, and caregivers can soon get COVID-19 vaccinations from VA under the SAVE LIVES Act? With this new law, more than 33 million people can get vaccinated. This means that VA will vaccinate you, your spouse, your caregiver, and even some other beneficiaries.
The next step is to offer the vaccine to all enrolled Veterans, followed by:
All Veterans.

Overseas Veterans who rely on the Foreign Medical Program.

A caregiver, defined as a family member or friend who provides care to a Veteran.

Veteran spouses and surviving spouses.

Recipients of the Civilian Health and Medical Program of the Department of Veterans Affairs (CHAMPVA) benefits.
Getting a COVID-19 vaccine through VA
At this time, we still have a limited amount of vaccines. We're working to determine how quickly we can begin to offer vaccines to the newly eligible. This may vary by facility. Some facilities may be able to offer vaccines to these groups now, while others may not.
The best way to stay informed is to sign up to tell us you'd like to get a COVID-19 vaccine at VA. Your local VA facility will then contact you when they have a vaccine for you.
Your employer, pharmacy, health care provider's office, or local public health officials may offer you a COVID-19 vaccine. We encourage you to take the first opportunity you have to get a vaccine at the most convenient location for you. You also have the option of finding other vaccine sources using the vaccine finder from the CDC.
Keep informed!
The vaccine distribution and supply will be changing rapidly in the coming weeks. Each VA Medical Center (VAMC) will have different vaccination plans. Check your local VAMC's website or social media channels to learn local plans that may include you and your caregiver. Please do not visit your VAMC without an appointment.
Remember, if you are a Veteran enrolled in VA health care, you can check in with your health care team by signing in and sending a secure message.