Not Sure About the Vaccine?
You can decide what's best for you
There are a lot of Veterans who aren't sure about getting vaccinated for COVID-19.
Is the vaccine safe? Was it rushed? Experimental?

Is COVID-19 really that serious?

Do the experts really know what works? Who can I listen to?
If you are worried about the COVID-19 vaccine, you are not alone. There is a flood of information, and many sources are offering opinions about getting vaccinated, including some sources who are knowingly spreading misinformation.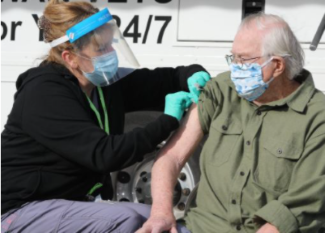 Take the time to educate yourself about COVID-19 vaccines. My HealtheVet's goal is to give Veterans information about your own health care and help you make the best decisions for you, with the help of your health care team. We want to answer your questions, or to help you find the information you need to answer your questions.
Is the vaccine safe?
Nearly 175 million Americans have received the vaccine; VA has given more than 3 million doses and found no serious or unexpected results. There are side effects, but these are common with many vaccines. If you've ever had a flu shot or the shingles vaccine, you may have experienced similar reactions like fever, tiredness, or muscle pain. These symptoms usually pass within a day or two. These are signs that your body's immune system is building immunity to help your body protect against infection from the virus causing COVID-19.
A very small number of people can have serious reactions to any vaccine. Across the U.S., an extremely small number of people have developed blood clots and low platelets that have led to hospitalizations and a few deaths after receiving the Janssen vaccine. However, this reaction is extremely rare and there is not an increased risk for this reaction among people who have had blood clotting problems in the past. The risks of having a serious reaction from the vaccine are very much lower than the risks of serious effects from COVID-19*.
Talking to your doctor about all your health issues can help you understand any risks, as well as the benefits of COVID-19 vaccination, and can and help you decide about the vaccine. People who are 'immuno-compromised,' with conditions like HIV or lupus, should discuss taking the vaccine with their doctor. If you're worried because you've had reactions to other vaccines, talk to your doctor before you get vaccinated.
Because the vaccine was developed so quickly, some people are unsure about its safety. However, the COVID-19 vaccine research was not rushed. Each trial followed all the normal and required steps. The steps in the government's review process were simply accelerated; none of the review procedures were skipped. The vaccines available now are safe. The health records of tens of thousands of test patients, as well as the millions who have been vaccinated, support this.
Many people who previously expressed concerns about vaccinations have shown strong support for the COVID-19 vaccines. All living former presidents have been vaccinated, as well as many celebrities and religious and community leaders. They do it to remind everyone that vaccines are safe and important.
Is COVID-19 really that serious?
You, or your family members or friends, may not have become sick with COVID-19. You may not know anyone who had COVID-19. Your community may have had lower infection rates than other parts of the country. Do not be misled by small numbers. Each person who died prematurely was someone's family member. Too many people have become seriously ill, many with lingering problems. Protecting yourself and your family is just as important in rural communities as in big cities.
In the past year, scientists and health care providers have learned more about how the virus spreads. One of the most surprising points is that a healthy, vaccinated person can spread the virus without getting sick. This is why wearing masks will still be important in public settings and in some private gatherings until most of the country is vaccinated.
Who has the answers?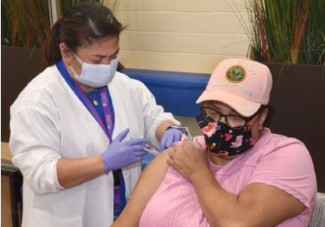 Researchers and public health experts across the country, in VA and in many university and research hospital systems, are monitoring millions of vaccinated people. They are learning more about COVID-19 every day. There are variations of the coronavirus evolving ('mutating'), and researchers are testing to ensure that the vaccines still work against these mutations. People who have survived COVID-19 may only have short-term immunity, so the vaccine is necessary even for them. It will take time to learn more about how long the vaccine will protect against the COVID-19 virus.
The best source of information about vaccines continues to be the U.S. Centers for Disease Control and Prevention, or the CDC. Their website is updated every day with the most recent research and recommendations. They review scientific information that comes from the best and most prominent medical institutions in the country. It is checked for accuracy and is easy to read and understand.
Who can I listen to?
The best place to start is with your own doctor or the other members of your health care team. Sign in to My HealtheVet to send a secure message to your health care team. Let them know if you have worries about taking the vaccine. Ask questions about how accepting the vaccine might help you to stay well, so you can continue to do what matters most to you. If you have already decided to get vaccinated, you may be able to schedule an appointment for a vaccination.
If you're not using My HealtheVet, now is a good time to register!
*This information was updated after more recent CDC data became available.
---
Please vote in our unscientific poll. All responses are anonymous.