Telehealth and Pain Relief
Acupressure treatments are possible via remote care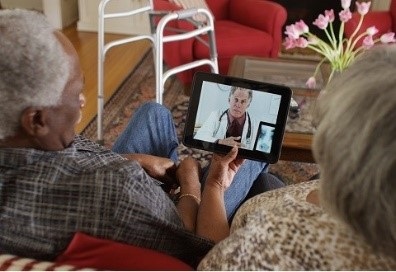 Have you tried acupuncture? Or were you practicing it with your health care team in person before the coronavirus pandemic? Many Veterans use acupuncture to manage pain or even reduce nausea.
It's now possible to receive a variant of acupuncture therapy on VA Video Connect. While talking to your doctor via video, you can learn self-care through acupressure, exercise, and health coaching.
Here are a few things you should know before your first VA Video Connect appointment for acupressure.
During the visit
Before you start your virtual visit, make sure you're seated comfortably. Your doctor will then begin describing the location of the point and then demonstrating how to locate it on themselves first. They'll choose points on their body based on your ability to find them on your own body. Locations will most likely be on your legs, hands, arms, or face.
How much pressure to use
Always start as gently as possible. It's best to start with gentle pressure on the point and then slowly move to a firm pressure if it's comfortable. If the pressure becomes painful, then it's too hard. Another option is a circular massage at the point with the same type of gentle pressure, moving to a firm pressure that's comfortable.
Working with your partner or caregiver
If you're mobility impaired, a caregiver can assist. One Veteran's wife helped him find the points and showed him how to press them after the doctor demonstrated them on himself. For another Veteran, a health aide was able to assist him.
What Veterans say
One Veteran from New Jersey said that "acupressure immediately brought my pain level down by 1-2 points, which took the edge off the pain and meant the world to me." Another Veteran said, "Doing acupressure decreased my pain overall, and I feel a whole lot better. It alleviates a lot of the pain I'm feeling in my muscles and joints. I feel overall healthier. It makes you feel better, happier because you're not in pain. So, your mood is different."
Acupressure by VA Video Connect is available at select VA locations. Make sure you reach out to your doctor via Secure Messaging (sign in required) to see if VA Video Connect is the next place for you to practice acupressure with your health care team.
---
Please vote in our unscientific poll. All responses are anonymous.