Medications: Playing it Safe at Home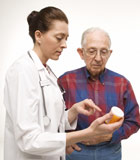 Medications Play it Safe Healthy Living Center is your place on My HealtheVet to learn about how to keep your medications safe. In this article, we will focus on what you can do at home. Before leaving your next appointment or hospital stay, make sure you understand what medications you are on, how to take them, and how to store them at home. You should get a medication list before you leave. Take a look at it. If you have any questions, ask your healthcare team.
Store your medications away from children and pets. Pill boxes are a great way to keep track of what medications you take daily. Fill your pill box weekly. If you need help to do this important task, consider asking for help from a loved one. Jot down any questions you may come up with about your medications, for your next appointment with your healthcare team. Use the Self Assessment Play it Safe questionnaire to help you come up with these questions for your healthcare team. Remember, you can always call with questions that cannot wait.
Keep track of when you will need to call for refills on your calendar. Go to the RX Refill in the pharmacy section to refill your medications. You may need an appointment if your refills run out, so plan ahead. When your medications come in the mail, check and make sure you have received the right medications. Call your VA pharmacy with any questions.
Your medication list should be kept updated and easy to find. Go to the My Complete Medications List in the pharmacy section to keep your medication list updated. Have you started taking any over the counter medications like vitamins, supplements, or herbal medications? These need to be included. If you have received medications from a non VA provider, enter those too. Keep a copy of your medication list in an easy to find place, in case you become ill or injured at home. A good place is the refrigerator door.
Your updated medication list tells a lot about your healthcare plan, so keep a copy with you wherever you go. If you become ill or injured while away from home, the medication list will assist the emergency healthcare team helping you. On your list, you should have the names and numbers of your healthcare providers and caregivers. One idea is to keep your list and any other documents in a neck wallet so it is easy to grab and go. Discuss with your healthcare provider whether you might benefit from a medical alert bracelet. This bracelet will notify others about medication allergies, conditions, and identification when you cannot speak for yourself.
You may hear a safety issue in the news about a medication you are on. If you are concerned, the first call should be to your healthcare team. The VA has a very rigorous system in place to keep you safe if there is a safety concern for any medication you may be taking. Look here for recent medication safety news from the VA Center for Medication Safety.
The Medications Play it Safe Health Living Center has lots of information and great links, here are some highlights:
You can do a lot at home to keep your medications safe. Keep an updated medication list handy. Learn about your medications to keep yourself updated. Communicate with your healthcare team any concerns about your medications. Remember, when it comes to your medications, Play it Safe!