Get Your Rx Refill on Time
Refill your prescription 15 days ahead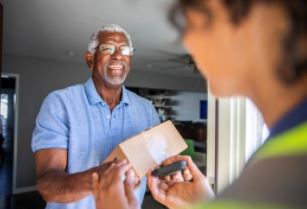 My HealtheVet has made online refills available for 16 years and has refilled over 194 million prescriptions. Refilling your medication on My HealtheVet is simple and easy to use. But we want to make sure you're following the right steps to get them delivered on time.
Here's how you can prepare and not miss a beat – or run out of medication.
Plan Ahead, Avoid Delays
New US Postal Service (USPS) shipping service standards have changed, and ordering 15 days ahead to ensure timely delivery will help. (VA uses commercial delivery services such as UPS, as well as the USPS.)
When you need a refill, make sure you mark your calendar to sign in to My HealtheVet and request a refill at least 15 days before your supply will run out. Fifteen days allows enough time to receive your prescriptions even if there are unforeseen shipping delays
Get VA Prescription Shipment Notifications
With My HealtheVet, you can request refills of your refillable VA-issued prescriptions, track VA prescription deliveries, and view your VA prescription history online. You can also receive e-mail notifications of when your prescription refills are shipped. Go to the Personal Information section in the navigation bar and select My Profile. There you can opt-in to receive Rx Refill Shipment Notifications.
VA also recommends setting up notifications directly with the carrier, such as Informed Delivery by USPS or UPS My Choice.
If you need to renew a prescription that is not refillable, you must contact your provider. If you sign into Secure Messaging to request a renewal, you can expect a message response within 3 working days (usually less).
Read More
---
Updated October 18, 2021