COVID-19 and Your Mammogram
Don't wait to get your vaccine or your mammogram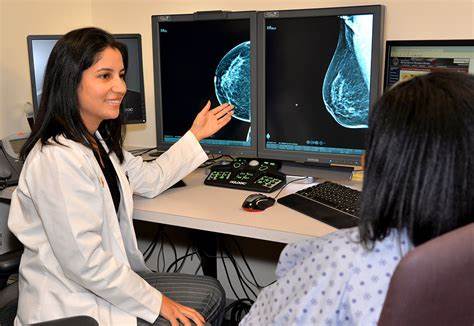 Many annual appointments have been delayed because of COVID-19. You might find yourself waiting to schedule appointments until you've gotten the COVID-19 vaccine. But you may want to get back on your doctor's schedule sooner. Preventive care, like mammograms, is crucial to early detection of cancer and getting life-saving treatment.
Mammograms are the first line of defense against breast cancer, the second most common cancer for women. If you're overdue for your mammogram, consider getting in touch with your health care team today.
Who needs a mammogram?
Starting at age 40, women have the opportunity to begin screening and should talk to their doctor about when to start. For women at average risk (no known risk factors), this is the schedule VA recommends:
At age 40, discuss with your doctor when to start breast cancer screening.

At 45, most women should get yearly mammograms.

At 55, either continue with yearly mammograms or switch to every other year.

At age 75 or older, continue getting regular mammograms if in good health.
If you notice any changes to your breasts, make sure to tell your doctor as soon as possible. It's important to find cancer early for the best chance of cure.
Getting a mammogram
On the morning of your mammogram, don't use deodorant or lotion. At your appointment, you'll undress from the waist up and put on a gown. A technologist will position your breast for the best images. Typically, your care team will want at least two x-ray images of each breast. If any abnormalities show up, you may need more x-rays or an ultrasound.
If you've been vaccinated
If you've recently gotten a COVID-19 vaccine or may get one before your mammogram, be sure to tell your health care team and technologist. They'll need to know because the vaccine can cause temporary swelling of the lymph nodes under the arm you received the shot. This may affect your mammogram and give "false positive" results, which may require additional imaging. If you do need a follow-up, please remember the findings may simply be a short-term side effect of the vaccine.
To reduce the likelihood of follow-up appointments, consider getting your mammogram before the COVID-19 vaccine or 4 weeks after the shot. Remember, do not delay getting either the vaccine or a mammogram. Sign in to My HealtheVet and send a Secure Message to discuss an appointment with your health care team.
---
Please vote in our unscientific poll. All responses are anonymous.