Help with Drinking
Cut back on drinking, manage stress, and find PTSD support through VetChange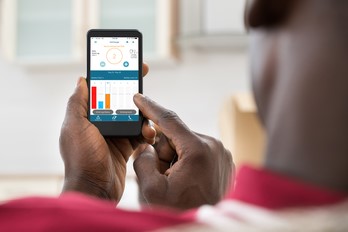 You may not drink a lot. You may not drink every day. But even "social" drinking can cause alcohol dependency or alcohol use disorder. A few signs to watch for could include trouble saying 'no' to drinks, drinking more than you want to, or having blackouts when you drink.
VA has tools that can help you reduce or quit drinking, starting with VetChange.
What is VetChange?
VetChange is a mobile app from the VA App Store. It's designed for Veterans concerned about their drinking and how it connects to PTSD. The app can help you track progress in cutting back or quitting drinking.
There are more than 30 learning topics in VetChange, covering PTSD, drinking goals, stress management, and more. It can even guide you through finding professional treatment and support for your goals.
How does VetChange help?
When you download VetChange, the app will ask you 5 questions to get to know your drinking habits. These questions will give you some ideas of where to start.
One way to use VetChange is to record how much you drink. Based on the notes you enter, VetChange will track your progress and show your growth. It'll help you fight the urge to drink and increase your motivation to cut back.
Take notes
You'll be asked to set a goal for reducing drinks. The Drink Notes feature allows you to track your mood, urge to drink, and situations that trigger you to drink. Through time, you'll develop ways to cope with situations that might make you want a drink.
Get support for your goals
VetChange can be used alone or with counseling. Whether you'd be more comfortable with professional help or self-help groups, VetChange includes a list of places where you can find more support.
If you want to cut back or quit drinking, Vet Change can help you achieve your goals. Not sure if you need help? Check out the Alcohol Use Screening and PTSD Screening to learn more. Reach out to your care team using Secure Messaging (sign in required) if you'd like more help.
Read More
VetChange (VA Mobile app)
Alcohol and Substance Abuse in PTSD (Veterans Health Library)
PTSD and Problems with Alcohol Use (National Center for PTSD)
---
Updated April 20, 2021