COVID-19 and the Flu
Know the symptoms of both; and get your flu shot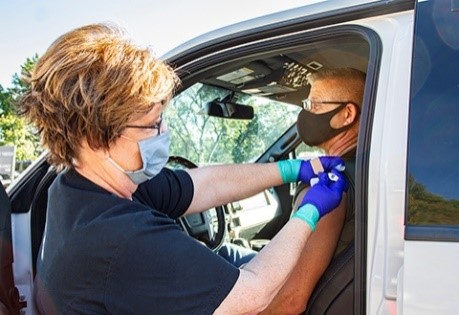 During the COVID-19 pandemic, this year's flu season has greater risks than previous ones. You may have heard that flu and COVID-19 share many symptoms, including fever, chills, cough, sore throat, and congestion. So how do you tell the difference?
Signs of COVID-19 can take as long as 14 days to show up, while flu symptoms may show up within 1 to 4 days. Keep in mind that COVID-19 can spread more quickly because you're contagious for a longer period than the flu.
Getting your annual flu shot and getting tested for COVID-19 are the easiest ways to stay healthy. These small steps can help reduce the demand for health care resources as facilities are stressed by the number of COVID-19 patients they are treating.
In response, VA offers Veterans free flu shots at 60,000 locations nationwide, including CVS, Costco, Kroger's, Safeway, Wegmans, Walmart, and other Community Care Network locations. All you need to do is find a current in-network location near you. No appointment or VA referral is required. Just present your valid VA identification card or a valid government-issued identification to receive your no-cost flu shot.
COVID-19 Reminders:
Always wear a mask when you're around others

Stay home if you feel sick.

If you start to feel sick, call your doctor for instructions. You can be diagnosed with COVID-19 over the phone.

If you have trouble breathing or have pain or pressure in the chest, seek emergency medical care immediately.
---
Please vote in our unscientific poll. All responses are anonymous.