Flu Season: Vaccines and Reminders
Text messaging service to help get a flu shot, health tips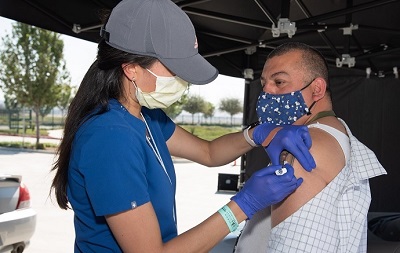 Getting a flu vaccine has never been more important than this year. If you are sick with the flu, your immune system is already working hard to protect you. That increases the risk of a terrible infection from the coronavirus.
Getting a flu shot to every Veteran is a big priority to VA. A new text messaging service, 'Annie,' has been expanded to include a set of messages to help you find where to get a flu shot, as well as advice on preventing flu and tips on staying well.
Let Annie help this flu season
Flu season, combined with increased COVID-19 cases, can be scary. Annie can help by sending messages on where you can find free flu shots along with wellness advice. If you already use Annie, you can subscribe to the Flu Information feature by texting the SUB MYFLU to 75338. If you haven't used Annie yet, follow these steps.
Step 1: Go to the website: veteran.mobile.va.gov/annie-vet

Step 2: Sign in using your My HealtheVet Premium, DS Logon Level 2, or ID.me account. Find out how to get a secure login account at https://mobile.va.gov/login-information.

Step 3: Read the consent information. Scroll to the end and select the consent box.

Step 4: Complete the fields under the Information Messages, Preferences, and Patient Info tabs to set up your Annie account. Select SUBMIT.

Step 5: You will receive a message from Annie asking you to confirm your participation. Text the word START to confirm.

Step 6: To subscribe to the Flu Information feature, text the words SUB MYFLU to 75338
Any time is a good time to get a flu shot, so when you're ready, we're here to help.
---
Please vote in our unscientific poll. All responses are anonymous.