Recharging With Yoga
An exercise for your mind, body, and soul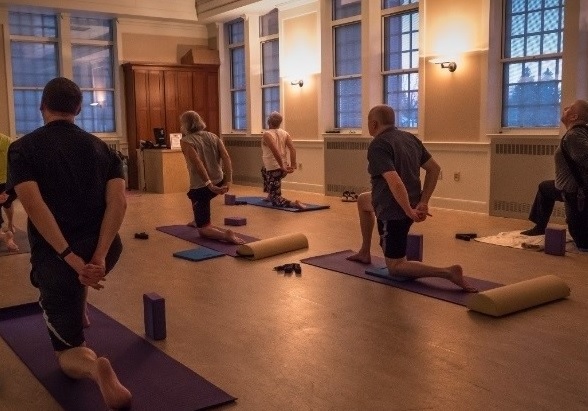 Yoga was developed thousands of years ago in India as a system of well-being, including physical, mental, emotional, and spiritual levels. It has changed over time. A wide range of yoga styles now exists. Yoga uses a variety of different tools for healing. This can include physical postures and movement, breathing practices, and relaxation, or meditation. Some forms of yoga may help work on flexibility and strength.
Yoga may also help in other ways too. Today, yoga's popularity is growing because people find it brings them a greater sense of harmony, balance, and peace.
How can yoga help me?
Using different postures, meditation, breathing, and other tools can provide many health benefits. Veterans who practice yoga might see positive changes with:
Moving the Body - Yoga helps improve flexibility, strength, and balance. By focusing on your body's position and breathing, it increases your self-awareness. Research shows that yoga can help lower back pain.

Power of the Mind - Yoga is a true 'mind-body' activity. The physical postures, breathing exercises, and meditation help bring the mind and body together. This leads to the 'relaxation response.' After yoga, people are often calmer and more relaxed. Research suggests that yoga can help reduce depression and anxiety.

Recharging - Yoga decreases the 'stress response,' and it increases the 'relaxation response.' This helps to calm and quiet the mind and body, and with regular yoga practice, you may sleep better. There's research that shows yoga may help with sleep.

Personal Development - Yoga includes many teachings and beliefs. Even without learning them, people find that yoga increases their self-awareness.

Family, Friends, and Co-workers - When we're calmer and more relaxed, we respond better to stress in our lives. By helping manage stress, yoga can help our relationships. A research study even showed how yoga could improve well-being at work.

Food and Drink - When we're more self-aware, we can better sense when we're full or hungry, which can help with weight management. Is yoga a good way to lose weight?
How should I start doing yoga?
As we've begun to live life with social distancing, we're all faced with new challenges on how we can care for ourselves. The new #LiveWholeHealth blog series makes it easier by sharing resources that support the mind, body, and soul while being at home.
The series also highlights Whole Health resources like video sessions for yoga or meditation. The ongoing series will feature a variety of existing VA resources and may include breathing exercises, stretching, meditation, fitness, yoga, tai chi, and more.
If you decide to try yoga, you should learn from a qualified teacher. Yoga is generally very safe. However, there's a risk of injury if not done correctly and with proper guidance. It's also essential to choose the right style of yoga for your needs.
Some VA medical centers offer yoga classes for wellness. Sometimes there are yoga classes for conditions such as pain or PTSD. What classes are available varies depending on the VA medical center.
Yoga at home
With help from practicing Veterans, VA offers a variety of yoga lessons on its YouTube channel. These introductory videos are from Veterans who share what they've learned about Chair Yoga and a more active hatha yoga.
Join a yoga class for Veterans right from your living room. Led by a physical therapist, this 60-minute class is broken up into five smaller videos. Learn how to do yoga poses step-by-step. It's done slowly so anyone can follow along. The poses are also taught in a seated position if it's hard for you to get down on the floor.
Write it down
Tracking or keeping a diary of your yoga routine may help you stick to your plan, improve time management, and keep you motivated. Veterans registered with My HealtheVet can access the Activity Journal feature, allowing them to record physical activities and track progress.
Yoga and Whole Health
Whole Health is an approach to health care that empowers you to take charge of your health and live your life to the fullest. It's fueled by the power of knowing yourself and what will work for you in your life.
Contact your local VA or ask your health care team how you can get started and learn more. You can complete the online Personal Health Inventory, which you can download as a file and send with Secure Messaging to your health care team.
---
Please vote in our unscientific poll. All responses are anonymous.