Vietnam War Veterans Health Issues
VA provides support for Agent Orange exposure and its related health issues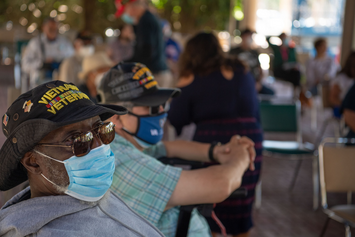 It's important to understand the health care needs of Vietnam War Veterans because of the long-term effects of military service during the Vietnam War era. If you served during the Vietnam War, including Veterans who served on Blue Water Navy vessels or Coast Guard ships, you may be at risk of certain health conditions. Understanding these needs will allow you to receive better care.
Learn about these conditions and what to do next to take care of your health.
Health risks related to the Vietnam War
What you can do now
Take these steps to make sure you're taking care of your health:
Be sure your doctor knows if you have a history of Agent Orange exposure. Because of the possibility of increased cancer risk, your doctor may suggest cancer screening tests and to report any symptoms as soon as they appear.
Expanded eligibility and benefits through the PACT Act
The PACT Act expands eligibility for VA health care for Veterans with toxic exposures and Veterans of the Vietnam, Gulf War, and post-9/11 eras. The PACT Act also added 2 new Agent Orange presumptive conditions, 5 new Agent Orange presumptive-exposure locations, and 3 new radiation presumptive-exposure locations for Vietnam Era Veterans. To see a complete list of the new presumptive conditions and locations, visit The PACT Act and your VA benefits.
With a My HealtheVet Premium account, you can send your health care team a Secure Message to discuss any possible toxic exposure in your service history.
---
Please vote in our unscientific poll. All responses are anonymous.