When Women Veterans Return Home
VA can help women readjust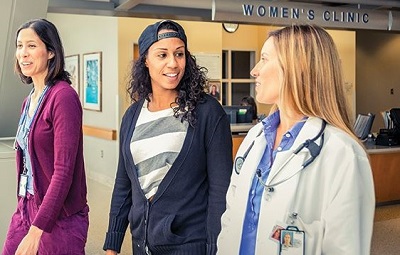 Learning to let go of your active duty lifestyle can be tough, especially after returning home. Are you wondering how you fit in with your family, friends, and loved ones? Do you feel alone and isolated or that your relationships aren't as close as they used to be? If so, VA offers free and private services to help women Veterans readjust to life at home.
Readjustment counseling services
Life isn't always easy for women Veterans after a deployment. That's where Vet Centers can help. Vet Centers across the U.S. provide a broad range of services to women combat Veterans. Services for women Veterans may include:
Individual and group counseling for Veterans and their families

Family counseling for military-related issues

Bereavement counseling for families who experience an active duty death

Military sexual trauma counseling and referral

Outreach and education, including health reassessments, community events, etc.

Substance abuse assessment and referral

Employment assessment and referral

VBA benefits explanation and referral

Screening and referral for medical issues, including TBI, depression, etc.
VA mobile apps
Posttraumatic Stress Disorder (PTSD) is a serious mental health condition that affects many Veterans. VA has multiple mobile apps that provide self-help, education, and support following trauma. These apps are not intended to replace needed professional care. VA's self-help apps include:
PTSD Coach: Helps you learn about and cope with symptoms related to PTSD that commonly occur after trauma.

PTSD Family Coach: Designed to support family members of those living with PTSD.

Mindfulness Coach: Helps you learn how to ground yourself in the present moment, and it can help you cope better with unpleasant thoughts and emotions.
My HealtheVet offers online screening tools to evaluate their mental health. If you think you might suffer from depression or PTSD, the screenings are an easy way to spot the signs of a serious illness. The results are not recorded anywhere, and you can share what you learn with your health care team. Mental health professionals can then help you decide your next steps.
Reaching out to your health care team is easier with Secure Messaging (sign in required), one of the most popular features in My HealtheVet. You can direct questions about treatments, prescriptions, appointments, etc. to the right person, and expect a response, usually within a day or two.
VA recognizes the many challenges women Veterans face during reintegration. Stressors such as feeling alone, adjusting to civilian life, reclaiming family roles, loss of military title and redeployment anxieties are all normal struggles. Not every transition is the same, and no matter the level of difficulty, VA is committed to providing resources and services that help women Veterans reestablish their lives with support and dignity.
Read More
VA Health Services for Women Leaving the Military
---
Updated February 24, 2020