Medical Records Anywhere, Anytime
Mobile or tablet or desktop, review, share and check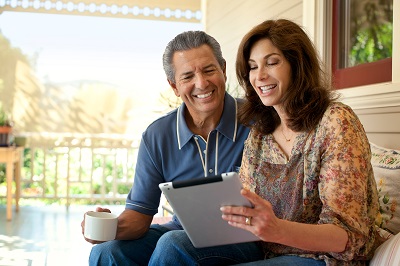 You can get your VA health information whenever and wherever you have a computer or mobile device and an Internet connection with a My HealtheVet Premium account. Having access to information from your VA health record can help you manage your health, avoid medical errors, and save time.
What are the benefits of using My HealtheVet to get information from your VA health record?
Access your VA health information conveniently from the comfort of home.

Share your VA health information with community providers, family or other caregivers.

Prevent you from having unnecessary tests and/or procedures.

Save your precious time, especially in cases of an emergency.

Review what was discussed at your health care visits.
You have options!
My HealtheVet offers you three options for reviewing and sharing information from your VA health record.
VA Blue Button Report: Customize your request for information by choosing the date range and types of information you want to view, such as lab results and progress notes. This option gives you access to current and historical information, self-entered information and DoD Military Service information.
VA Health Summary: Get a summary of your VA health information, such as allergies, health conditions, medications, laboratory tests, and more, to share with community (non-VA) providers or other applications. Note: You are not able to choose the information included in the summary.
VA Medical Images and Reports: Access your Radiology studies such as X-rays, MRIs or CT scans. You can download and share these images and reports with your providers, including non-VA providers.
Get Started:
STEP 1: Log into My HealtheVet with your Premium account.
STEP 2: On the home page, select
STEP 3: Select the type of report that you need.
STEP 4: Follow the steps on the next page.
STEP 5: Get your data by selecting your preferences to view, download or print.
You can still request medical record information from your VA facility Release of Information Office.
If you have questions about information in your health care records, contact your health care team to discuss.
Protect your health information
You are responsible for protecting the personal information you print or download. To learn more, read this article 'Protecting Your Personal Health Information.'
---
Please vote in our unscientific poll. All responses are anonymous.