Kick Start the New Year with Healthy Resolutions
Eat Better! Lose Weight! Exercise More! Quit Smoking!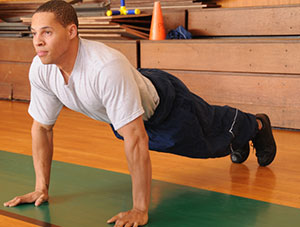 It's not uncommon to start the New Year with resolutions much like these. In fact, according to 2016 statistics, 55 million Americans make New Year's resolutions each year.
Sticking to them, however, is a different story. At the U.S. Department of Veterans Affairs (VA), helping Veterans achieve their 'new self' is aided by online tools as well as many health and wellness programs at the local VA Medical Centers.
My HealtheVet, VA's online personal health record, offers food and activity journals, mental health screening tools, a Veterans Health Library (VHL) and the ability to track appointments and order prescription refills. These tools are designed to support Veterans in taking control of their health and their lives.
Another resource for Veterans is VA's MOVE! Weight Management Program, which has reached more than 700,000 Veterans since 2006. According to Dr. Susan Raffa, National Director for Weight Management, 78 percent of Veterans receiving VA care are overweight or obese. In order to better address the unique weight loss needs of Veterans, VA has developed alternatives to face-to-face participation. In 2015, VA released MOVE! Coach, a mobile app for iOS devices that can be used alone or as part of MOVE! participation. Development of an Android version is underway and it is expected to be released early next year.
Veteran Steven Kraslen started with MOVE! at the Evanston, Illinois CBOC. After completing the 16-week MOVE! program including group sessions and a Be Active and MOVE! physical activity component, Mr. Kraslen continued to use the MOVE! Coach mobile app for follow-up and maintenance of his weight loss. Kraslen said "Since starting MOVE! I have lost over 60 pounds. Now if my weight goes up a little, I just review my food logs to see what's going on and I use a treadmill, bicycle, or walk to switch up my physical activity. My life is so much different now - I feel better about myself and my medical issues are under control."
Another successful Veteran, Mark Lang, lost over 100 pounds since joining the Jefferson Barracks MOVE! Program of the VA St. Louis HCS. He attended MOVE! group classes, a 6-week VA Healthy Teaching Kitchen course, and continued in weekly FITT exercise classes and walking group. Lang says "I wished I had joined MOVE! sooner! MOVE! helped me get into a healthy frame of mind and my quality of life is so much better."
These are just two of many MOVE! Success Stories. Why not make 2017 your year to get healthy and happy. Take these first steps and make an appointment with your health care provider today!
So what's the first step toward a 'new you'?
MOVE! has two overarching recommendations for weight loss: First, reduce the number of calories consumed by 500-750 per day, and second, make time for physical activity.
These recommendations are not unique to Veterans, but the tools accessible through MOVE! and My HealtheVet are available to improve the daily and long-term health of Veterans.
What's at risk if I don't change?
Your health is at risk if you remain overweight or obese. Losing as little as 5% of your body weight can reduce your chances of heart disease, diabetes, gallstones, sleep apnea and cancers.
What should I eat?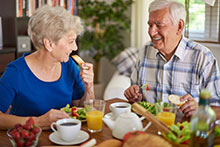 MOVE! encourages Veterans to select a healthy diet plan and provides guidance on ways to modify eating habits to reduce excess calories. Many Veterans have medical conditions that require special diets and they should consult with a dietitian while participating in MOVE!
"Providing the exact same diet for all Veterans is not the best idea. A diet plan that works for one person might not work for another," said Lynn Novorska, MOVE! Dietitian Program Coordinator. The interdisciplinary MOVE! team will guide you to design a diet and exercise program that best suits your unique preferences, lifestyle and energy needs.
How much should I exercise?
For important health benefits, Sophia Hurley, MOVE! Physical Activity Program Coordinator recommends a minimum of 2 ½ hours of moderate-intensity physical activity or 1¼ hours of vigorous-intensity aerobic physical activity per week, or an equivalent combination of both. Activity should be in episodes of at least 10 minutes, and it is best to spread these out during the week. Moderate intensity means you can talk while being active. Vigorous intensity means you cannot say more than a few words without taking a breath. Choose activities that you enjoy, and start at a comfortable level. Once the activity begins to seem easy, add a little more activity each time. Then try doing it more often.
Read More
For more information about protecting your overall health, consult these trusted resources.
Eat Wisely Healthy Living Center
Be Physically Active Video (VHA YouTube)
Move!® is a registered trademark of the U.S. Department of Veterans Affairs.
---
Updated January 11, 2017