Medication Check Up
Contributed by Maureen Layden, MD, Director, VA Medication Reconciliation Initiative.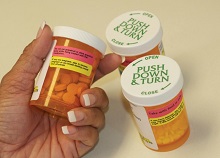 Bob, a Korean War Veteran: "This pill is from my primary care doctors, not a VA doctor mind you, and it's a sample. This pill is, wait a minute...it's my girlfriend's, sorry, we both take Simvastatin same dose of 20 mg a day. She must have my pills in her bag! All these are the vitamins and herbals that my daughter wants me to take-but I don't really. I left all the VA meds in this other bag but two or three of those are out of date-I think? Oh and remember when I got my hip done at the big VA hospital in the city? These are the meds from that hospitalization-should I keep taking them?"...
Sound familiar? Medications coming from all sorts of places, some you are taking some you are not. It is very important to keep these medications straight. Think of your next visit to your primary care provider as a "Medication Check-up." You can get ready by bringing a list of all your medications or your pill bottles to your next appointment. To help your health care team work with you, bring the name, phone number, and fax number of your providers outside the VA. Jot down your questions for your provider about the medications you are taking. Go to My HealtheVet and check out the Blue Button, the Pharmacy Section (PDF) and Medications Play it Safe Healthy Living Center. There you will find medication list tools, helpful hints, and success stories. These tools can help you (and anyone who helps you) keep track of your medications.
What should go on your medication list?
The date, your name, and birth date

The names of medications to which you are allergic or have had a reaction

All over-the-counter medications you take (like medications for pain, heartburn, bowels, skin, eyes and ears, or vitamins and herbals, and health foods)

All prescription medications

Why you take it

Who ordered your medication

How you take it and how much
For example: Aspirin 325 mg, I take one of these pills every day to prevent heart attack, recommended by Dr. Layden, my Primary Care Provider at the VA.
Other items you can put on your list include:
Any emergency contact information

Your contact information

Your notes
When you get to your next primary care appointment, check to make sure your medication list is the same as the list your health care team has in their records. It is important that these match so your health care team knows what you are taking before they order any medication.
Ask:
Are these the right medications for me?

Are there any medications that need to be added, changed or stopped?
By the end of your visit, the goal is for you to have a final medication list that works for you. This should be available to you, anyone who helps with your meds, and your healthcare teams inside and outside the VA. Carry your medication list around with you and have it handy at home. You should have it available anytime you need to see a health care provider. This can be at an appointment or in an emergency.
Read More
Drugs, Supplements, and Herbal Information (Medline Plus)
Pillbox (National Institutes of Health)
Medicine Safety: A Toolkit for Families (Learn About Rx Safety)
---
Updated December 1, 2010