How to Use My HealtheVet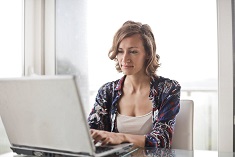 My HealtheVet is the VA's Personal Health Record. It is designed for Veterans, Servicemembers, their caregivers and others. To use My HealtheVet, you will need a computer with Internet access - that is it! Accessing My HealtheVet can be at home or through public access like a library or Internet cafe. Computers may also be available to Veterans at your local VA Medical Center. Contact the My HealtheVet Coordinator at your local VA Medical Center for questions and/or assistance.
Access and Using the Tools
There are three ways you can access My HealtheVet. Each level offers a different way to enter the site. Select a box to learn more about each level of access and using the tools:
Safeguarding Your Personal Information
Safeguarding your personal information is important. My HealtheVet is a secure website. The VA follows strict security policies and practices to make sure that your personal health information is safe and protected. However, anytime you use a computer, it is important that you take steps to protect your information. This is most important if you are making copies of your information or using a computer that does not belong to you. Check out these tips on what you can do to protect your personal information.
Benefits of Using My HealtheVet
Using My HealtheVet can help you gain a better understanding of your health status. It allows you to explore different ways you can monitor and improve your health. When you use the tools on My HealtheVet, you become a more active partner with your health care team. Working hand in hand with your health care team and sharing your information may help them better understand your personal healthcare needs. The great benefit is that you can easily access your personal health information in your My HealtheVet account - anytime and anywhere you have Internet access. Your information is available to you at your convenience, 24/7.
Do not wait...start your journey to better health today on My HealtheVet!