Contacting My HealtheVet
Contacting My HealtheVet is as simple as filling out the form at our Contact Us page. That form sends your comments or questions directly to our help desk. The My HealtheVet help desk can help with questions about this web portal and your account, but cannot answer benefits or claims questions. Those questions should be submitted to the VA nationwide customer service system.
If your Internet Service Provider or your e-mail software uses spam blocking, you will need to configure the spam blocker in use to allow emails from My HealtheVet. Consult the user instructions for your software or customer service for your Internet Service Provider for information on their spam blocking services.
---
If you would like to add a My HealtheVet link on your own website, take a look at the available logos and buttons we have that you can just cut and paste into your site.
PLEASE NOTE:
This is not an emergency contact system. If you need emergency medical care, please call 911 or go to your nearest VA medical center. If you need to speak to a professional emergency crisis counselor, please contact VA's Crisis Hotline at 1-800-273-TALK. Counselors are available 24/7 at this number.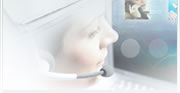 Do you need to get additional help? Would you like to make a suggestion? Email the Help Desk...