Video Visits: Invite a Guest
You don't have to be alone for video visits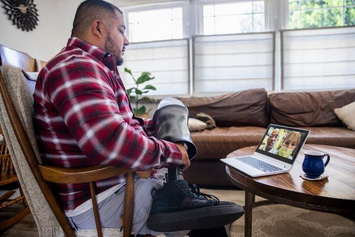 Many Veterans bring a caregiver or family member when going to a doctor's appointment. This person might help you remember questions to ask or what the doctor told you. Or they might provide emotional support if you're going through a hard time.
You can have the same support at your telehealth video visit by inviting up to 5 guests to join. Request the Caregiver Connect scheduling option when booking your VA Video Connect appointment.
Support at virtual appointments
You can have a guest join your video visit with you or from another location. When you schedule a video visit, ask your health care team to add your caregiver, friend, or family member. You'll need to provide their name and email address.
Invite up to 5 guests, who will receive an email invitation with a link to join the video visit. At the time of the appointment, they'll be able to use the link to join with an internet-connected, video-capable device.
Forgot to invite a caregiver?
You can also invite guests to an in-progress video visit. Ask a member of your VA care team to use the Invite Participants feature during your video visit. Provide the VA care team member with your guests' email addresses or cellphone numbers. Your guests will then receive an invitation link to join the video visit immediately.
Telehealth makes it easy
Telehealth visits on VA Video Connect make it easy for you to connect with your health care team from home. VA offers other virtual support, like My HealtheVet's Secure Messaging to share updates with your provider or Annie for mental health help from home.
If you can't use VA Video Connect because you don't have internet access or an internet-connected device, talk with your VA health care team about the Digital Divide Consult. VA can help you get connected.
Ask your doctor
If you have questions about what telehealth options are right for you, talk with your health care team by sending a Secure Message or at your next visit. You can ask about having caregivers or family members join your next video visit.
---
Please vote in our unscientific poll. All responses are anonymous.