Healthy Eating 'To Go'
Taking a break from the kitchen doesn't have to mean fried and fatty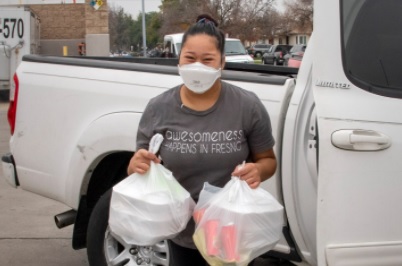 As the coronavirus pandemic continues to break records, colder weather has limited outdoor dining in many parts of the country. Visiting bars and restaurants can increase your risk of getting and spreading COVID-19. The solution that can reduce risks and give you tasty, special meals: order takeout or delivery. But is the takeout solution a healthy choice?
If you're missing your favorite foods like pizza or sweet and sour chicken, go ahead and order it. But you can still make healthy choices, and it may be easier than you think. If takeout has become a 'new normal' for you, then make small changes to your favorite orders and adopt a few healthier habits.
Start with small changes
When you order takeout, try to make these small adjustments:
Order foods baked, steamed, broiled, or grilled instead of fried

Order extra veggies on your sandwich instead of cheese

Order condiments, salad dressings, and sauces on the side

Instead of fries, choose a baked potato, side salad, veggie, or fruit

Choose fruit instead of a dessert
A few fast food trade-offs
Choose restaurants with a variety of healthy options. Try the following trade-offs from your favorite restaurant:
When you choose a hamburger, order a side salad instead of French fries

Instead of a soda or milkshake choose fat-free or low-fat white milk or chocolate milk, unsweetened tea, water, sparkling water, or other drinks with no added sugars

When you choose a burrito or taco, order a lean-meat or all-vegetable option
Popular takeout options
When you want Asian-inspired takeout food or pizza, you can make a few changes to keep it healthy.
Look for veggies: Pick dishes that highlight veggies, like chicken and broccoli or a vegetable stir-fry.

Try steamed foods: Many foods can be steamed instead of fried. Steamed dumplings and rice are lower in saturated fat than the fried versions.

Adjust your order: Most restaurants are happy to accommodate health-related special requests. Ask that your food be cooked with less oil, half the sauce, or less salt.

Add sauces sparingly: Sodium in soy sauce and calories from added sugars in duck and teriyaki sauces can add up quickly, so be mindful of how much you use.
When you order pizza:
Select a thin crust or cauliflower crust option.

Ask for half the cheese or low-fat cheese.

Choose veggies: Add all your favorite veggies like onions, green peppers, and mushrooms.

Use meat toppings sparingly or stick with veggies only.
Remember that portions at restaurants are usually larger than you need. Plan on eating half now and enjoy the rest for a meal later.
Don't forget to keep track
Keeping a food journal is a great way to stay aware of what you eat each day. In My HealtheVet's Track Health feature, you can track your meals, even those you eat outside of the home. Once you're done eating, you can record the foods you chose. This will help you and your doctor or dietitian understand your eating habits and give them information to provide personalized recommendations.
---
Please vote in our unscientific poll. All responses are anonymous.