Target Your Anger with AIMS App
Online desktop or mobile options for using anger control plan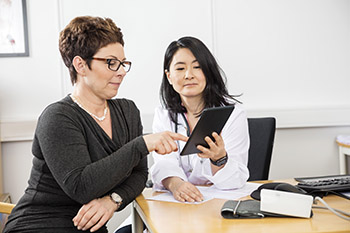 Anger is a natural emotion. Everyone gets angry from time to time. But it can be a problem if you get mad too often, too quickly, or too intensely. People who have experienced trauma or suffer from PTSD may find it difficult to control their temper. Many Veterans, even those who haven't experienced trauma, learned to adopt a quick, aggressive response as part of their military training. That response style can be very helpful in some situations, like combat, but can cause problems in civilian life. For some Veterans, that can make the transition to civilian life even tougher.
The good news is that anger is not a permanent part of your personality. The way you express anger is a learned behavior - that means you can retrain yourself to respond differently. VA has developed a free course, Anger & Irritability Management (AIMS), to help you learn tools and techniques to manage anger and irritability better.
AIMS is different than anger management courses you may have tried. It is based on a highly effective treatment that was specifically designed for Veterans and Servicemembers. Thousands have improved their lives using this approach. AIMS doesn't try to convince you not to ever get angry. Instead, it teaches you to identify your triggers, notice the warning signs that you're getting irritated or angry, and use tools to manage your response.
Veteran Steve Wiegert talks about his anger management ( 62 secs)
What will I learn?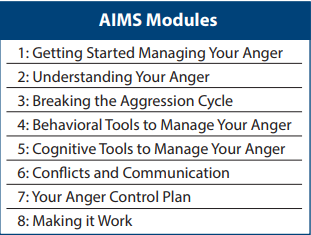 The AIMS online program features eight modules, each containing videos from Veteran mentors who share their personal experiences and how the course helped them. AIMS helps you better understand what makes you angry and gives you useful tools to manage what you do when you get annoyed or frustrated. Then you can develop a personal Anger Control Plan to help you continue to use what you've learned. Feel free to go through the course at your own pace, but it's recommended you complete 1 module each week. This should give you time to practice your new skills in between sessions.
What is your motivation for wanting to change? Maybe you want to improve your relationship with family and friends, feel good about yourself, or better handle daily problems. Whatever your reasons are, keeping them in mind will help you succeed in this course and gain more control over your reactions.
How can AIMS help me?
If you have trouble controlling your temper, AIMS can help. With this course, you can decide what tools work best for you and develop a personalized anger management plan. AIMS prepares you with real-world skills and tools to use daily. You can access AIMS through:
Desktop: The online course is comprehensive with eight modules that build on each other. It's meant to be taken as a course. You can go at your own pace, but a module a week is recommended to give you time to practice the new skills you learn. It's free and anonymous - no sign in required.

Mobile: The app can be used on its own, or in combination with the online course. It focuses on providing tools you can use in the moments you need them the most. It has plenty of educational content, and you can pick and choose what you want to use.
What else can I do?
The bottom line: seeking answers won't hurt. But if this app isn't for you, and you still want help, take My HealtheVet's free online mental health screenings. Results are not recorded. You can choose to discuss your results with your health care team using Secure Messaging (sign in required) or bring them with you to your next appointment.
Read More
AIMS App (VA Mobile)
Introduction to the AIMS for Anger Management App (YouTube)
Anger and Trauma (National Center for PTSD)
Anger and PTSD (PDF) (Veterans Health Library)
---
Updated February 26, 2020