Recipes for a Diabetic-Friendly Meal
Healthy and delicious food everyone can enjoy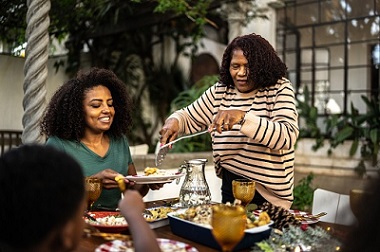 For people with diabetes, knowing what to serve and eat for family dinners can be tough. Eating healthy is key to all sorts of health benefits such as lowering blood pressure, building stronger bones, and keeping their blood sugar within a healthy target range. Your blood sugar is a critical part of managing diabetes because controlling it can prevent complications from diabetes.
Diabetics' dinner dilemma
Whether you have diabetes or someone you know does, you can prepare a group meal that is healthy and tastes great. While reviewing recipes, measure each meal's carbohydrates since they are the main nutrient that affects blood sugar. People with diabetes can balance their total carbohydrates throughout the day by eating appropriate portion sizes for meals and snacks.
What to include and avoid
Look for recipes that are low in saturated fats, trans fats, cholesterol, salt (sodium), and added sugars. Try meals that include fiber-rich foods because they can delay the absorption of sugar. This can help someone with diabetes control their blood sugar. When choosing from these food groups you should:
Fruits

Include: oranges, melon, berries, apples, and bananas

Avoid: grapes, cherries, and pineapples
Vegetables

Include: broccoli, carrots, greens, peppers, and tomatoes

Avoid: potatoes, corn, and green peas
Protein

Include: lean meat (chicken or turkey without the skin), fish, eggs, nuts and peanuts, dried beans and certain peas, and meat substitutes like tofu

Avoid: fried meat, pork bacon, cut lunch meats
Whole grains

Include: wheat, rice, oats, cornmeal, barley, and quinoa

Avoid: white bread, pasta, tortillas, and sugary cereal
Dairy

Include: low-fat or non-fat milk, cheese, and yogurt

Avoid: whole milk, regular cheese, and yogurt
Delicious meals everyone can enjoy
VA offers a variety of delicious, healthy recipes in the Yummy Benefits Cookbook and Yummy Benefits Cookbook II. These meals are packed with healthy ingredients but don't lack flavor. A few diabetes-friendly recipes you should try:
Garlic citrus fish - a protein-packed recipe using cod or tilapia. Include garlic to provide extra flavor, but also help maintain blood sugar levels as well as reduce your risk of heart disease. See the full recipe in the Yummy Benefits Cookbook.

Black bean turkey chili - a delicious and healthy take on traditional chili. This recipe combines lean turkey meat with black beans to provide a meal rich in both protein and fiber. Opting for low sodium diced tomatoes in this dish reduces your risk of heart disease, a common diabetes complication. See the full recipe in the Yummy Benefits Cookbook.

Colorful winter quinoa salad - a seasonal meat-free option that uses leafy greens as a tasty way to manage blood sugar levels. Using red wine vinegar in your dressing allows you to cut calories without leaving your salad bland. See the full recipe in the Yummy Benefits Cookbook.
Online tools that can help
Veterans can record their meals online using My HealtheVet's food journal, to learn about their eating habits. Once you have a registered Premium account, you can track not just your meals, but also your vitals. Diabetes affects nearly 25 percent of VA's patient population, so Veterans with a Premium account can follow their blood sugar levels and share with their health care team using a Blue Button report.
Read More
Alive and Healthy! A Diabetic Returns from the Brink
Diabetes: Meal Planning (Veterans Health Library)
Diabetes Diet, Eating, & Physical Activity (NIH)
---
Updated October 10, 2019