Medications: Keep Track and Play It Safe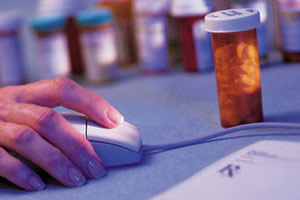 Do you know the right names of all the medicines you take and why you take them? Do you have trouble remembering if you took your medicine when you were supposed to?
While medicine can help us feel better, thousands of people die each year because of medication mistakes. Use the tools and information on My HealtheVet to help you manage your medicines when you:
Track all your prescription and over-the-counter medicines and supplements, such as aspirin, cough syrup, vitamins and herbs

View the medicines your VA providers have prescribed

Refill your VA prescriptions online

Research medicines to learn about their use and possible side effects

Communicate with your VA health care team with Secure Messaging. Use it to ask questions or share concerns you may have about a medicine

Print or download a complete list of your medicines using VA Blue Button. Share it with your health care team.
When retired Navy Veteran Kathleen Charters grew concerned about taking multiple medications, she turned to My HealtheVet. "I take four pills in the morning and two pills at lunchtime, but sometimes I forget to take the lunchtime pills and I take them at dinner instead," said Charters. When her provider added two more pills to her regimen, Charters looked at the information on the "Medications: Play It Safe" self-management page. Besides tips for using medicines safely and avoiding medication mistakes, Charters found a list of helpful questions to ask her provider about her medicines.
"I really like the way My HealtheVet helps me ask the right questions," said Charters. "This starts a conversation that helps everyone reach a common understanding. Then I can comply because I understand what we are trying to achieve and what my role is in reaching my goals."
Things to Remember
To safely manage your medicines, remember to:
Update your medicine list. Do this every time you get a new medicine or your prescription is changed. Do not forget to include medicines ordered by your non-VA providers

Bring a copy of your medication list to your medical appointment. Share it with your health care team and review it together

Keep an updated copy of your list with you (in a wallet or purse) at all times. Also, keep a copy somewhere visible at home - such as on the refrigerator - in case of an emergency

Talk to your health care team if you have a question or concern about your medicines. Let them know if you do not understand why you are taking a medicine or how to take it. Make sure to let them know if you had any side effect or reaction to a medication

Organize your medicines. Use a pill box labeled with days of the week and time of day (morning/evening)

Safely dispose of old medicines. All medicine bottles have an expiration date - check the date to see if they should be disposed of.
Read More
Medications: Play It Safe - My HealtheVet's Healthy Living Center
Medication Disposal - Tips from the VA for disposing of medicines safely
Drug Safety - More information about drug safety and medication mistakes from the U.S. Food and Drug Administration
---
Updated May 29, 2012