Greening Your Diet
Easy Ways to Add More Fruits and Veggies to Every Meal of the Day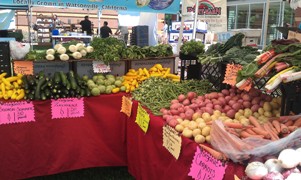 With Spring in full bloom, everything outdoors starts to get greener. This year, why not celebrate Spring by adding some "green" to your diet or try growing some of your own vegetables or fruits? Check out My HealtheVet's guide to getting more fruits and vegetables into your diet.
Why are fruits and vegetables so important?
Fruits and vegetables contain essential vitamins and minerals. The nutrients that fruits and vegetables provide can help you reduce your risk of cancer, diabetes, heart disease, stroke and other diseases.
They are also low in calories and high in fiber, so they keep you feeling fuller longer.
If you can grow fresh items at home or buy local produce, you will be doing yourself - and the planet - a world of good. Growing and eating locally grown fruits and veggies minimizes greenhouse-gas emissions by cutting out food transportation, decreases pesticide use and maximizes flavor and nutrition. Why? "Locally grown foods are fresher because they are picked when ripe, not before," explains Lynn Novorska, MOVE!® Dietitian Coordinator. "Purchase from the farmer's market or look for the goods at the supermarket labeled 'local.' To save cost, buy produce in bulk at the peak season, freeze and use at a later date."
Get more produce in your diet 24/7
Eating more fruits and vegetables does not have to be a chore. While adding a side salad to a meal is always a great idea, it does not appeal to everyone. Try these quick tricks to sneak more healthy food into your meals - morning, noon and night!
Breakfast
Omelets or scrambled eggs: Add some color to your morning eggs by chopping up a few veggies. To really make a healthy meal, make sure you are using egg whites only.

Yogurt or cereal: Looking for a way to jazz up your morning yogurt or cereal? Add fruits such as berries or bananas to your bowl.

Smoothies: Sneak some fruits or vegetables into the blender when making a smoothie. Most fruits and some vegetables - carrots, spinach, and some others - can pack much-needed nutrients into a simple drink.
Lunch
Sandwiches: There is room for more than meat and cheese between those slices of bread. Add lettuce, tomato, onions or a handful of sprouts to spice up your sandwich. You will be fuller faster - and on fewer calories!

Pizza toppings: Take it easy on the cheese and let the veggies on your pizza fill you up instead.
Dinner
Soups: Add fresh or frozen chopped vegetables to your soup for a hearty, healthy meal. "Soup is also a very good way to use leftovers," offers Novorska. "Begin with a simple broth and add leftover veggies and meat. Avoid putting pasta into the broth because it will become mushy, but you can reheat pasta in a bowl and add the soup to it. You can actually keep a soup going for a few days before you start over. Every time you add something new, you change the taste!"

Pastas and casseroles: Toss some extra veggies into your pasta pot or casserole dish. The extra veggies will add color to the dish as well as add extra flavor. "Consider planning a once or twice a week healthy pasta night with whole wheat pasta and a variety of toppings - diced tomatoes, grated cheese, home-made pesto or olive oil, and lots of different veggies," suggests Novorska. "Set the plain pasta on the table with a selection of prepared veggies and a 9 inch dinner plates to let everyone choose their favorite pasta-veggie combination."

Make fruit your dessert: Instead of loading up on chocolates and sweets, why not try fresh fruit instead? A ripe piece of fruit rivals the sweetness of any other dessert. Have the fruit alone, or serve with frozen yogurt or low-fat whipped cream.
Additional "greening tips" for all meals
Herbs and Spices: When you are greening your diet, fragrant and delicious herbs and spices are as important as any other ingredient in your recipes. While it's great to use fresh herbs whenever possible, also keep high-quality dried herbs and ground spices in your pantry. These flavorful plants can add pep to your meals with greater health benefit than sugar, salt or butter.

Plan your meals: You may feel the economic squeeze and find it difficult to buy more "green" foods. In most cases, however, it's possible to buy less expensive foods if you plan your meals and cut back on portion sizes served. More fruits and vegetables make meals healthier, and there are added health benefits of clean air, water and soil that come with a "green" diet.
VA Nutrition and Food Services support local food producers
Did you know that your local VA may be serving milk, bread, and produce that are procured from local small businesses? In fact, there is an emerging trend for VAs to procure locally grown produce for patient meal service. San Francisco, St. Louis,Mo., Martinsburg, W.Va., Clarksburg, W.Va. and the District of Columbia VA Medical Centers are gearing up for this year's farm fresh produce. Patients enjoy the fresh spring strawberries, asparagus, salad greens, and broccoli that hail the start of the season. Sandy Spicher, Martinsburg VA administrative dietitian remarks, "our patients love the looks and taste of our locally grown fruits and vegetables. They are glad that we are supporting our farmers."
Wow, farmers markets at VA Medical Centers!
"Did you know that out of 50 states, VA Medical Centers in 24 states have a farmers market?" asks Kimberly Thompson, a dietitian at the Memphis VA. "There are a total of 33 farmers markets on VA properties across the country."
With Veteran and community health in mind, Veterans Canteen Services are teaming up with many VA Medical Centers across the country to provide on-site farmers markets for easy access to fresh and local produce. This gives VA patients and their families easy access to local produce and a quick way to put their dietitians' advice into action.
Read More
Watching What you Eat: Food Journaling
Want to see how all of those fruits and veggies add up in your diet? Try keeping track of your food intake with My HealtheVet's food journals.
MOVE! Weight Management Program
Handouts: Fruits (PDF) and Vegetables (PDF)
Nutrition (Centers for Disease Control)
For more advice on adding produce to your diet, visit the CDC's Fruits and Veggies Matter
VA Nutrition and Food Services
---
Updated May 3, 2019