Annie Health Texting for Veterans*
Annie is a VA text messaging service that empowers Veterans enrolled in VA* to take an active role in their health care by sending automated self-care reminders. Messages you receive from Annie can include reminders to take your medication, tips for reducing stress, instructions to prepare for your health care appointments, and more. Annie can also send general broadcast messages from your VA medical center or on topics of interest to you. Using the online version of Annie for Veterans, you can view charts and graphs of your health measurements and all your messages.
Information that you send to Annie is available to your VA clinical team.
Launch Annie for Veterans to take charge of your health, one text at a time!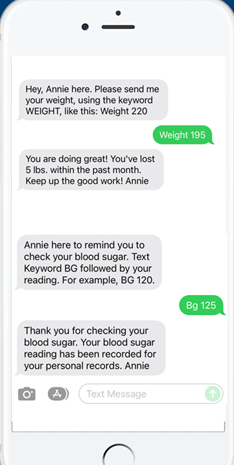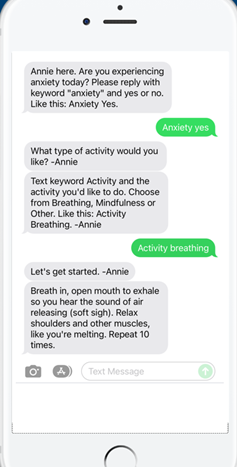 The registration process is quick and easy and collects basic information such as your mobile phone number, time zone and preferences. If you have questions, contact the Health Resource Center at 877-470-5974.
Step 1: Launch Annie for Veterans.
Step 2: Select Your login preference from among Login.gov, ID.me, DS Logon Level 2 (Premium), and My HealtheVet Premium. (Read more about secure account credentials or contact your VAMC and ask for the My HealtheVet coordinator).
Step 3: Use the Annie Registration Wizard (4 tasks to complete).
Provide Consent

Read the entire Information and Disclosure Factsheet. Once you have scrolled all the way down to the bottom, if you want to use Annie, check the consent box indicating that you give your consent to participate. You will NOT be able to check the box if you do not scroll to the bottom of the agreement.

Select Next.

Fill Out Patient Information

Fill in your mobile phone, re-enter it, and select your time zone.

Select Next.

Select Your Preferences

After reviewing 'Receiving and Replying to Annie Messages,' select how you would like to interact with Annie (via text message, Annie online, or both).

Select Next.

Opt-In to Broadcast Messaging

You can decide to receive limited broadcast messages from Annie. These messages include important information from your VA medical center, and they will be sent depending on the topics of interest you choose during registration. You can update your preferences at any time by visiting Annie online.

The box is selected by default to receive these messages. If you would not like to receive these messages, then uncheck the box and skip step 'b.'

To move forward and receive messages:

Select your VA Medical Center.

Select the topics of interest that you would like to receive messages about.

Select Submit.
Step 4: Receive Registration Confirmation
You will receive the following message from Annie confirming your participation: "Annie from the VA: You're Registered! Text HELP for Help; STOP to Stop. Msg & Data rates may apply. Msg freq varies. Terms: mobile.va.gov/annie/terms-privacy"
NOTE: You must be registered before you can subscribe.
Step 1: Navigate to Available Subscriptions within My Subscriptions. If you've just self-registered, then the Annie should open to My Subscriptions automatically.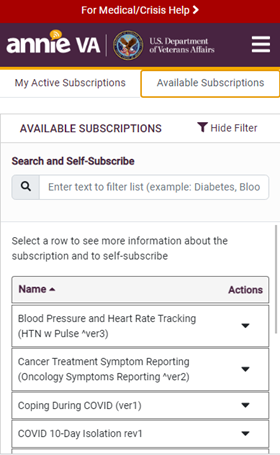 Step 2: After review of the available subscriptions, click or select the subscription you want. The entry will expand showing the description.
Step 3: Simply select the button Begin Self-Subscribe and follow the remaining prompts.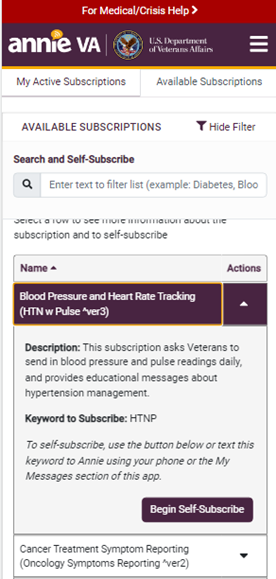 * Annie is only available to VA enrolled Veterans and Caregivers. Annie texts are automated and it is not a means to directly communicate with your VA clinical team.