Appointments: Should You Reschedule?
In-person precautions and virtual visits are important parts of VA health care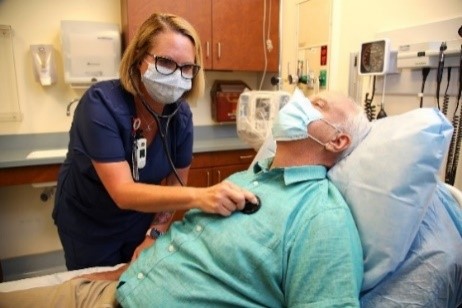 With the impact of the COVID-19 pandemic, you're probably questioning which trips outside of the house are worth it, including your in-person medical appointments. If you need an in-person appointment, your VA medical center is safe for you to visit. But if you're feeling uneasy and the appointment is non-urgent, there are alternatives you can discuss with your health care team.
If you had an appointment cancelled because of the pandemic, contact your health care team about rescheduling an appointment soon.
When thinking about changing your next appointment, consider these three tips:
Send a Secure Message
Whether you have an in-person or virtual appointment, sign in to your My HealtheVet Premium account and send your doctor a Secure Message. Your health care team only needs a simple message from you that you'd like to reschedule or change to a virtual visit to adjust your appointment. They'll work with you to get the care you need safely, in a way that makes you feel comfortable.
Prepare questions
When rescheduling your appointment, discuss with your health care team if you are up to date on screenings, such as mammograms or prostate. You should also ask about vaccinations, like flu shots and shingles. Screenings need to be done at certain intervals, so make sure your screenings are scheduled on time.
Safety at VA facilities
If you're worried about visiting your VA facility, just know that we're taking every precaution to keep you safe. You will be screened for symptoms with a temperature check and some basic questions. Face masks are required for everyone. If you are uncomfortable visiting in person, you may be able to receive care from home using VA Video Connect on your computer, smartphone, or tablet. Ask your health care team about a virtual (video) visit for your next appointment.
Read More
Coronavirus FAQs: What Veterans Need to Know
---
Updated October 6, 2020