Mobile Options for Appointment Check-ins
Save time at your next appointment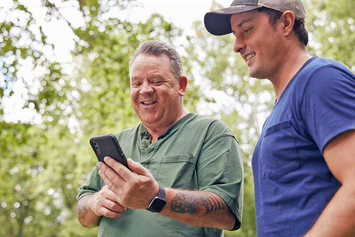 When you go to a scheduled appointment at your VA facility, you may have several options for checking in. VA is offering new check-in processes that save you time. Your facility may offer the new patient check-in process. This has two parts: pre-check-in and mobile check-in. However, you will always have the option to check-in with a staff member.
Pre-check-in
Pre-check-in lets you confirm your demographic information up to seven days before your appointment. This includes your phone number, next of kin, and emergency contact information. If your facility offers pre-check-in, you'll receive a link by text message after confirming your appointment. This new option will save you time but isn't required.
Mobile check-in
With mobile check-in, you can check-in for your appointment on a smartphone when you arrive. If your facility offers mobile check-in, you'll see a poster titled "Have an appointment? Check in with your smartphone." Text or scan the QR code on the poster to start the process.
To use the new check-in options, you'll need a smartphone connected to Wi-Fi or cellular service. You'll need to use the phone number you have on file with VA to verify your identity.
Remember, pre-check-in and mobile check-in are optional. If you'd like, you can keep checking-in for appointments with staff members when you arrive. To change your demographic or insurance information, you'll need to check-in with a staff member. You can also sign-in to VA.gov and update your contact information in your VA profile.
Check your appointments
VA allows you to manage your visits from home. You can schedule or cancel some VA health care appointments online with VA.gov. Check My HealtheVet's VA Appointments tool to see your VA appointment date, time, and type (video or in-person).
---
Please vote in our unscientific poll. All responses are anonymous.